Look who's talking in daytime: Nov. 19 to Nov. 23
Thanksgiving food and movies, with rocking performances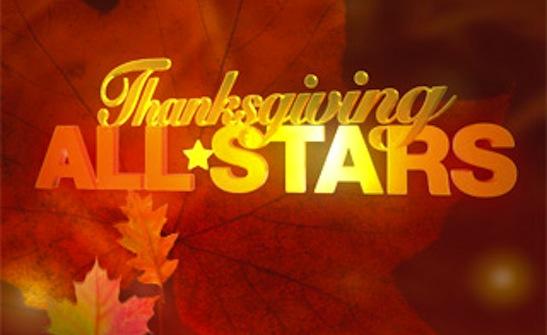 With Thanksgiving on Thursday, tons of celebrity chefs will be popping up in daytime the week of Nov. 19, along with DIY pros. Helen Mirren ("Hitchcock"), James Spader ("Lincoln"), Jennifer Lawrence ("The Silver Linings Playbook"), Jackson Rathbone and Ashley Greene ("The Twilight Saga: Breaking Dawn Part 2"), Chris Pine ("Rise of the Guardians") and Toni Collette ("Mental") are talking up their new movies; while primetimers are talking "The Good Wife," "NCIS: Los Angeles," "How I Met Your Mother," "Modern Family," "The New Girl,: "Parks and Recreation," "30 Rock," "Don't Trust the B---- in Apartment 23," "The New Normal," "Modern Family," "Dancing with the Stars," "The Real Housewives of Beverly Hills," "American Idol" and "Frontier Earth with Dave Salmoni." Pitbull, Ke$ha, R. Kelly, Flo Rida, Phillip Phillips, Kelly Clarkson, Kid Rock, Alicia Keys, Gary Clark, Jr., Ace Young and Diana DeGarmo and Monserrat Lopez are set to perform.
Bing: More on Thanksgiving on TV 
Other notables coming to daytime include Tony Bennett, Willie Nelson, Paula Abdul and the Fierce Five Olympic gymnasts. Schedules are subject to change
"Anderson"
Mon: Co-host NeNe Leakes; James Spader
Tue: Co-host Kathie Lee Gifford and Hoda Kotb; Ashley Greene
Wed: Co-host Ana Gasteyer; Chef Rocco DiSpirito
Thurs: (repeat) Co-host Rachel Dratch; Julie Andrews
Fri: (repeat) Co-host D.L. Hughley; John Edward, Eric LeGrand
"Ellen"
Mon: Alyson Hannigan, Sophia Grace and Rosie
Tue: Jesse Tyler Ferguson; Kelly Clarkson performs
Wed: Jennifer Lawrence 
Thurs: (repeat) Lauren Graham, Sophia Grace and Rosie's "Tea Time" with Justin Bieber; Phillip Phillips performs
Fri: (repeat) Madonna
"Good Morning America"
Mon: Mario Batali; Joe Zee and DJ Kiss; Kid Rock performs
Tue: Nicki Minaj; Rico Rodriguez, Paula Abdul, Carla Hall, newest NASCAR champion
Wed: Elizabeth Karmel, "Dancing With the Stars" cast-off; Gary Clark, Jr. performs
Thurs: Ginger Zee; chefs Sara Moulton, Sunny Anderson and Amanda Freitag   
Fri: Chef Emeril Lagasse, Disney's The Wonderful World on Ice performance
"Jeff Probst Show"
Mon: Brandi Glanville and Lisa Vanderpump
Tue: Jillian Michaels and Marissa Janet Winokur
Wed: Rick Springfield                      
Thurs: Nev Schulman, "Extreme Cougar Wives" Hattie and Jude
Fri: Lisa Whelchel 
"Katie"
Mon: Sally Field, Tony Bennett
Tue: Giuliana and Bill Rancic
Wed: Alicia Keys talks and peforms; Ina Garten                                  
Thurs: (repeat) Kate Gosselin
Fri: (repeat) Demi Lovato             
"Live! With Kelly and Michael"
Mon: Katie Holmes, Dave Salmoni
Tue: Amy Poehler, Rico Rodriguez 
Wed: Alec Baldwin, Nicki Minaj
Thurs: Sara Ramirez, Lana Parrilla
Fri: Helen Mirren, Miranda Cosgrove
"Marie"
Mon: Carnie Wilson, Sonya Nimri, Jason Gedrick; Mac Powell performs
Tue: Dean Cain, Kym Douglas; Ace Young and Diana DeGarmo perform 
Wed: (repeat) Shaun Robinson, pet expert Laura Nativo; Monserrat Lopez talks and performs
Thurs: Marilu Henner, David Hoffman, Cheryl Burke, Donny Osmond; Marie and Donny perform
Fri: Florence Henderson, Jonathan Roberts, Jennifer Gilbert
"Rachael Ray Show"
Mon: Curtis Stone, Sabrina Soto
Tue: Zooey Deschanel, Dr. Phil
Wed: Co-host Regis Philbin, John Gidding                              
Thurs: Marc Murphy and Josh Capon
Fri: Sunny Anderson, Donnie Wahlberg
"Ricki Lake"
Mon: Mary Jo Buttafuco, Patricia Wenskunas, Candice DeLong
Tue: secret lives of mistresses
Wed: Amber Riley, Carre Otis, Rebecca DiLiberto
Thurs: Female military veterans
Fri: 40 and pregnant
"The Talk"
Mon: Krysten Ritter; Robbie Montgomery            
Tue: Chris O'Donnell
Wed: Toni Collette, Tony Goldwyn
Thurs: preempted for NFL Football
Fri: preempted for NFL Football
"Today"
Mon: The Fierce Five Olympic gymnasts, Tony Bennett, Jackson Rathbone, Giada De Laurenti; Flo Rida performs
Tue: Craig Berman, Caroline Berman and Trace Adkins; Willie Nelson; Martha Stewart; Ke$ha performs
Wed: Jennifer Lawrence, Carter Oosterhouse, Bill and Giuliana Rancic, Melissa Clark; Pitbull performs live on the plaza.
Thurs: Martha Stewart, Savannah's soldiers
Fri: Chris Pine, Ina Garten, Bob Dotson, Todd English; Susan Boyle
"The View"
Mon: Lisa Vanderpump, Kyle Richards and Brandi Glanville; "How Funny Are You?" winners announced; Phillip Phillips performs          
Tue: Willie Nelson; Ken Burns and daughter Sarah
Wed: Chris Noth; Pitbull performs; Knicks City Dancers perform               
Thurs: (repeat) Co-host Jay Mohr; Sally Field, Oliver Stone; Susan Boyle performs
Fri: Co-host Dr. Drew Pinsky; R. Kelly performs; Mario Cantone
"The Wendy Williams Show"
Mon: Andy Cohen
Tue: Katie Couric
Wed: Jackson Rathbone
Thurs: Ross Mathews, Chef George, Lizzie Post 
Fri: no celebs on the docket