Ex-'Swan': Erin Moran too unhinged for reality show
Season 2 contestant says 'Happy Days' star needs therapy first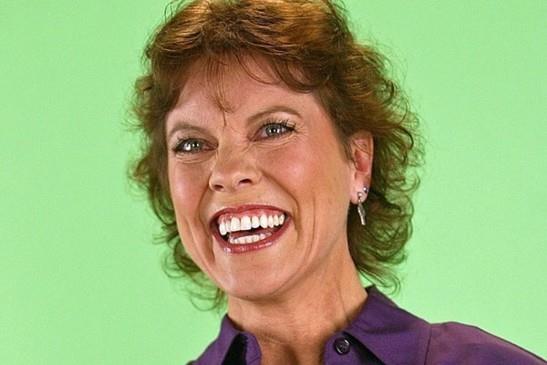 A former star of "The Swan" is warning
Erin Moran
not to shoot the celebrity version of the reality show that offers free cosmetic surgery to "ugly ducklings." "Celebrity Swan" is set to debut as a two-hour FOX special this summer, with Moran and infamous former White House intern
Monica Lewinsky
rumored
to star.
Bing: More on Erin Moran | "The Swan"


Season 2 contestant Lorrie Arias tells RadarOnline that the former "Happy Days" actress "would need a lot of therapy before she does anything like that."


According to the New York Post, since receiving a $300,000 remodel on her face and body in 2005, Arias could now use one on her mind. She has gained 300 lbs. and suffers from bipolar disorder and depression. She blames her ordeal on lack of follow-up care from show therapists, and doesn't think Moran would survive similar treatment.


Moran, who played Joanie Cunningham on the beloved '70s sitcom, has reportedly blown through her "Happy Days" money and was briefly homeless last year, after getting kicked out of the Indiana trailer where she lived. She refuses to participate in any televised reunions with her cast mates.


By the way, writing this story is killing me. I once had a major thing for Moran -- bigger even than my thing for Lisa Whelchel from "Facts of Life"-- and my seventh-grade self desperately wants her to thrive. But when someone unstable enough to appear on "The Swan" singles you out for your instability, that's probably cause to consider her case.


Plus: Fired reality TV stars | Shows that are signing off this year | Fantasy 'Real Housewives' cast

Arias says Lewinsky would fare better: "She worked at the White House. You have to have some kind of self-esteem for that. Before the show, she's fine… and afterwards, she'll be even better."

Interesting. So the jobs Lewinsky performed for President Clinton equate with self-esteem? Great to know.

Do you think Erin Moran should do "The Swan"?


"Celebrity Swan" premieres sometime this summer on FOX.
Are you sure you want to delete this comment?