'True Blood' Talking Points: 'Let's Boot & Rally'
Ten major 'True Blood' plot points you need to know to get by at the water cooler this week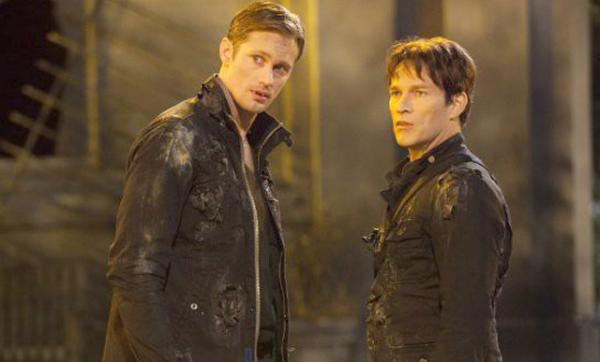 Missed this week's "True Blood"? Here are ten major plot points you need to know to get by at the water cooler.
Bing: More on "True Blood"
Last week on "True Blood," Jason Stackhouse and Andy Bellefleur were nearly dusted by faeries as they were kicked out of the faerie strip club when Jason started asking questions about his parents' death.
This week Jason found himself back in time, his adult form hanging out with a pre-teen Sookie and his dead parents in the full bloom of youth. That is, before they started pouring blood through vampire bites and Jason's mom offered him a blow job. That's when he woke up buck naked in his bed. He called Andy, and the Sheriff was also buck naked – in Arlene's house on the sofa. Neither of them could remember how they got home.
Sookie was about to finally get it on with Alcide when she threw up on his shoes. And they had an audience – Bill and Eric. The men on a mission -- who'd been issued a dawn deadline for producing Russell, or those iStakes would take them out -- wanted Sookie to use her telepathic powers to read the mind of Eric's minion, Doug, who was the only one who might know who had freed Russell Edgington. So she did, and it turns out the minion had seen one of the Authority's own – a woman – doing the deed. Was it Nora after all? Or could have been, perhaps, Roman's sidekick and lover Salome? 
Lafayette was still posed by that funny-looking demon, and he was stomping mad about it – in fact, he stomped on a bunch talking saint statues that were taunting him about the unfortunate turn of events. He conked out on the sofa, and when he awoke, there was Jesus's head on the coffee table, trying to speak to him through lips sewn shut. Freaked Lafayette out, but his mama Ruby Jean (Alfre Woodard reprising the role!) seemed to understand exactly what Jesus wanted. 
Pam installed her new baby, Tara, as a bartender at Fangtasia, leaving the newbie vamp feeling more lost and confused than ever. Jessica could relate, and so the girls chatted about the bloodlust-driven haze that is newbie vampire-dom. Tara was still feeling sorry for herself, so Jessica told her to skip the guilt and grief. "We're going to be young forever," she reminded her. Later, Tara went out for a smoke and ran into Jessica's ex, Hoyt, who was cocking the sleeveless shirt and eye-liner. "Never too you for no fang-banger," she said. "Well, I never took you for no vampire. People change." When he offered himself up, she told him to go home to his mama. Later, as she fed on him in the Fangtasia bathroom, Jessica heard him plead in agony (or ecstasy?) – and that triggered a vamp-fight between the new friends.
Sookie, Alcide, Eric, Bill and Doug – whose memory they were still mining – found out Russell was being kept in an old abandoned asylum near some cemetery. As they hunted the halls, Sookie reminded them that her magic faerie light was the only thing that seemed to affect the ancient vamp, so she was actually protecting all their asses. Freaked, Doug made a run for it – and found a meat locker of sorts full of live lunatics hanging from the ceiling, being held as meals for Russell.
Jason and Andy couldn't deliberate their faerie encounter for long. They had a crime scene to investigate – and Sam was still the only witness. His shifter pals had apparently been taking out with wooden bullets, which was weird, because regular bullets could kill shifters just the same. Wooden bullets, well, that's vampire territory. "All this supernatural shit's been going on for years," Jason said. "We just started noticing it when the vamps came out of the closet." 
Terry Bellefleur and his pal Sergeant Patrick had found their arsonist pal Eller, but he claimed he wasn't the baddie, despite the fact that he had them tied to chairs in a fire-proofed basement. It was that woman they'd killed in Afghanistan – she'd cursed them all. The fire, he said, was an ifrit, a winged creature of fire from Islamic mythology. He said he'd Googled it. That triggered a memory in Terry – of them setting the bodies on fire, of the angry souls escaping. "I saw it, too," he told Eller. But the ifrit had them just where it wanted them – all together. "We're sitting ducks down here." When Eller released them, Patrick got to work tying the guy up – but Terry insisted that it was real, the ifrit. He ran outside, and Patrick came up, too, and that, of course, is when the fiery apparition, uh, smoked Eller.  
Sam went to go tell Luna about the murders – and she asked him to go, as she still hadn't told him about her daughter Emma turning into a wolf. Outside, Sam heard someone shout 'Hey shifter!' – and then was shot by a gang of masked men. When Luna ran out, having heard the gun shot, she was pummeled by several bullets, dead in an instant. And that's when Emma ran out, shouting, "Mommy." Sam told her to run – and she did, after turning into a wolf.
"There are traitors in our midst, those who seek to tear down all that we have built together," Roman expounded as Sam lay dying and Jason stood at his parents' grave. "The question before us is are we willing to share this world? As vampires, we have committed crimes against humanity, crimes for which we must now atone.  Do we return to a time when we skulked in the dark, hiding in the shadows, or are we willing to extend the promise of Lilith and her bountiful mercy to all humanity – and live as equals? We will fight! And let the night cleanse us of our sins and lead us to victory." 
That, of course, is when the rag-tag gang on a mission finally found Russell -- who looked and sounded very much like his old self. When Eric told him they'd come to finish what they'd started, Russell said, "As my love Talbot used to say when we were buck-hunting: give it your best shot!"
"True Blood" airs Sundays at 9 p.m. ET/PT on HBO.  
Are you sure you want to delete this comment?