Snoop Dogg Weirds Up 'The Price Is Right'
The hip-hop icon was one surreal special guest on the CBS game show's 2012 premiere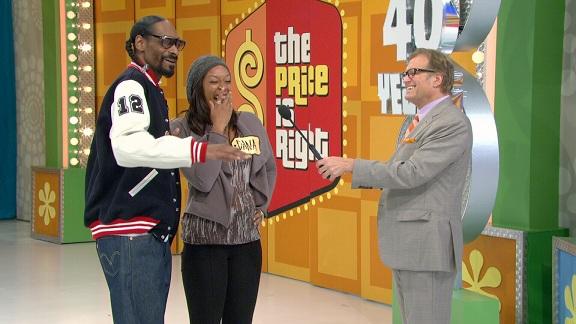 Given Snoop Dogg's noted history of smoking funny stuff, he should be an authority on the price range of Boboli pizza, Town House crackers and other grocery-store munchies. Or at least that's what panicking teenage "Price is Right" Alexis was banking on Monday morning during her "Checkout" segment. 
Yes, you read that right. Snoop Dogg, West Coast hip-hop legend and general all-media opportunist, appeared as a guest on "Price Is Right" today to kick off its Celebrity Week, which will also feature
Neil Patrick Harris
,
Heidi Klum
and
Chris Daughtry
working alongside contestants for charity. In Snoop's case, the MC is trying to raise funds for his youth-football league. 
More importantly, it made for an awesomely odd 60 minutes of a.m. TV, especially with NBC skipping
"Access Hollywood"
for the humdrum
"Roses Parade."
At varying points, Snoop made himself overly comfortable in a '62 Lincoln convertible that was up for grabs, danced languidly in celebration of he and the contestants' success, provided a hilariously terrible freestyle rap (see video below) and inspired host
Drew Carey
to be so laid back that he began encouraging folks to "spin the whizzle." 
Not since
Bob Barker
's sendoff has an individual episode of "The Price is Right" been this worthy of tracking down online after airing, and it's doubtful any upcoming celeb drop-ins will match Snoop's eccentric charisma. Although that darn NPH is pretty hard not to love.
"The Price is Right" airs weekdays at 11 a.m. ET/PT on CBS..