Joanna Johnson Talks 'The Bold and the Beautiful' Return
25th anniversary guests and a new ingénue on the scene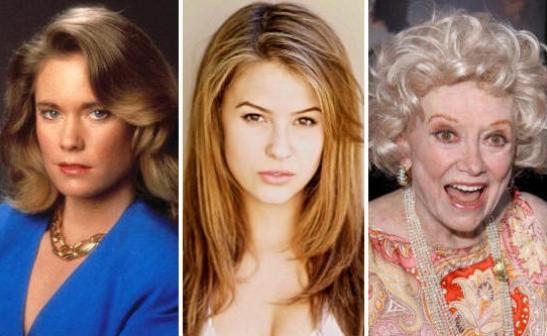 With "The Bold and the Beautiful" celebrating its 25th anniversary on Friday, March 23, original player Joanna Johnson (Karen Spencer, ex-Caroline) is making a return. She'll show up Tuesday, March 27, with new addition Linsey Godfrey in tow. Hillary B. Smith, Phyllis Diller and Rachel Reilly are also joining the party.
Joanna Johnson's Karen Spencer is stopping through town so she can deposit her daughter Caroline (Linsey Godfrey). The young upstart is named after her late aunt, who was Johnson's original character, Karen's twin and Ridge's first love -- before "that tramp from The Valley" Brooke showed up and set Ridge on his endless path of love triangles, of course!
"I'm excited as always to return to my alma mater and I'm looking forward to being a mother!" Johnson told MSN TV. "I'm so happy Karen has a daughter and hasn't been in New York all alone these many years. And of course, the fact that she's named after the first character I played on the show, Caroline Spencer, is very special. Though I have to admit when I was highlighting my script lines I accidentally highlighted 'Caroline' instead of 'Karen.'  It's confusing to look at the page and remember which one I'm playing."
MSN TV confirmed the story broken by TV Guide and learned that Momma Karen won't be sticking around. As an original member of the "The Bold and the Beautiful" family, the exec producer of ABC Family's "Make It or Break It" is just dipping her toes back into acting to introduce the new character. If she were to stick around, there would be plenty of history to play with. Just like her twin, Karen has a history with both Ridge and Thorne, but Johnson is leaving the triangle drama to the next generation.

With her eye on landing a job at Forrester, Caroline will surely shake things up for the young set. Since Liam is her cousin and Bill her uncle, however, those two should be out of the running romantically.

This is Godfrey's first daytime role, but she starred in the Hallmark movie "Jack's Family Adventure" alongside Peter Strauss back in 2010 and also boasts several guest stints on shows like "Wizards of Waverly Place" and "CSI: Miami."

Another March "The Bold and the Beautiful" arrival is "One Life to Live" alum Hillary B. Smith. As previously reported, Smith join the cast as Dr. Stacy, a psychiatrist who specializes in sex therapy. MSN TV has confirmed Dr. Stacy will show up March 8 to help a major player in crisis.
Phyllis Diller is also heading to town for anniversary month. The 94-year-old, who has been stopping in for wild runs as Gladys Pope since 1995, is bringing her wacky character back to town for two days. She'll leave her makeup job behind to get in on a romantic storyline, according to TV Guide Magazine.
Before "The Bold and the Beautiful" March Madness begins, "Big Brother" alum turned "Amazing Race" contestant Rachel Reilly also returns as a Bikini Beach waitress on Feb. 22 and 23.

"The Bold and the Beautiful" airs weekdays on CBS.