'GMA' Summer Concert Series Lineup
Robin Thicke, Demi Lovato, No Doubt, Brad Paisley, Counting Crows and more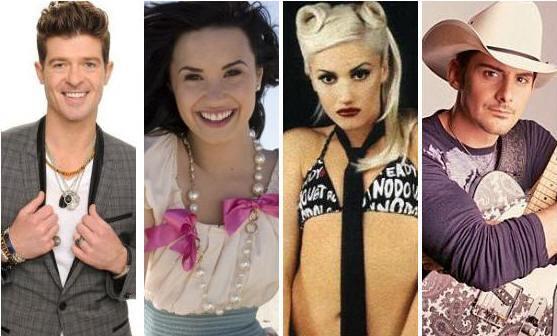 "Good Morning America" released a partial schedule for its 2012 Summer Concert Series. Every Friday morning starting May 25, "GMA" will feature a live performance from the Rumsey Playfield in New York City's Central Park, while "Today" continues its own summer series across town. 

Bing: More on 'Good Morning America'

So far, the fourth annual Pepsi sponsored event boasts a purely A-list lineup. "Duets" mentor Robin Thicke kicks off the festivities and will be followed by No Doubt, Brad Paisley, Counting Crows, Demi Lovato, The Wanted, Neon Trees and LMFAO. With several dates still to be announced, additional acts will be revealed throughout the summer. (See schedule below.)
All concerts are free and open to the public and will take place live during "GMA." Viewers interested in joining "GMA" in Central Park are encouraged to arrive at Rumsey Playfield via the 72nd street entrance on Fifth Avenue at 6:00am when the park opens to the public.
Bing: Check out the "Today" concert series lineup
"GMA" Sizzling Concert Series 2012 Lineup
May 25: Robin Thicke
June 1: Brad Paisley
June 8: Counting Crows
June 15: Beach Boys
June 22: TBA
June 29: LMFAO
July 6: Demi Lovato
July 13: TBA
July 20: TBA
July 27: No Doubt
Aug. 3: TBA
Aug. 10: TBA
Aug. 17: Neon Trees
Aug. 24: The Wanted
Aug. 31: TBA
"GMA" airs weekday mornings on ABC.