Freddie Smith Talks 'Days of Our Lives' and Sonny
Daytime soap tackles gay bullying, love triangles and more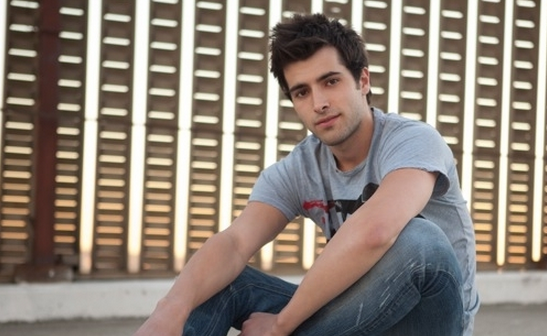 On "Days of Our Lives," Sonny Kiriakis (Freddie Smith) has been helping his best friend Will Horton (Chandler Massey) come out of the closet for over a year, often just by setting a good example. Since 
Will planted Salem's first gay kiss
 (on another guy!) and came out, fans have been clamoring for a "WilSon" love story. On Monday, Aug. 20, everything shifted in a 
Daysaster
 aftershock. Not only did Sonny lay a kiss on Will, but homophobe T. (Brendan Coughlin
) 
returned with a vengeance. And that was just the beginning of both stories. MSN TV talked to Freddie Smith about the kiss, the love triangles and the gay bullying storyline that are thrusting his gay character out of the coffee house and into the center of Salem drama. 
Bing: More about "Days of Our Lives" | Freddie Smith
MSN TV: After all this time, Sonny suddenly planted a kiss on Will: What was he thinking?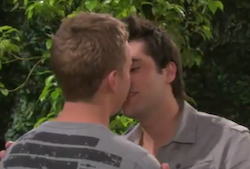 Freddie Smith: In the past he's respected Will's boundaries and the process of Will's coming out. He didn't want to pressure him. He wanted Will to feel comfortable with who he is before he makes any decisions. He was also torn between, "This is my best friend. If I tell him I love him or that I have a crush on him, is he not going to be friends with me anymore?" It's that whole cat and mouse thing. When he found out Will might be dead or something bad might have happened and then he saw Will okay, as a friend and a crush, he was like, "Oh my god I've got a kiss you. I love you."
From what fans saw in the post-Olympics teaser, Sonny didn't get the response he was hoping to get!
He didn't, no. Will was like, "Yo, dude, what are you doing?" All Sonny's feelings came out at once and caught Will off guard. It wasn't a romantic, "Oh we like each other." It was more like: Boom! I'm kissing you, whether you like it or not. It will be interesting to see how that plays out.
Do you think these two belong together?

I think so. They have a lot in common and can both bring something great to the relationship. If they come together, I think they can become a great power couple. 
Plus: Comedic actors who tackle drama | Successful TV spin-offs
The kiss was also, oddly, spurred on by T.'s return and the way he laid right into Will, attacking him for being gay. What can you tell us about the bullying storyline that kicked off today? 
T. comes back into town more angry than before. What's immature is he blames Sonny for changing Will, because he finds out Will came out of the closet, so he's just on a mission. He takes Salem by storm. He makes a grand entrance, I'll tell you that, and it becomes very intense between the two of them. But it doesn't just end with a confrontation. It shows the aftermath. It shows how T. deals with it, how friends and family deal with it, how Sonny deals with it. It's very three-dimensional.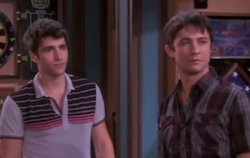 Sonny has always been so confidant in who he is and more or less kept his cool with T., in the past. How will T.'s anger and negativity affect him this time?
Sonny thought this was all over. He was there for Will. He went through the process of coming out and went through bullying before. He's like, "I'm comfortable with who I am. My family and friends love me. I don't have to deal with this anymore." So when it does happen, he's taken back. It's like, "When is this going to end?" It's emotional. He has a great scene with his dad about this whole thing. He's like, "Why is someone hating on me just because I'm gay?" I can't get into the way he deals with it, but he does deal with it. It's a process.
Sonny is such a strong guy. When push comes to shove and T. gets physical this week, it's hard to imagine him not standing up for himself.
If someone pushes you, you can't just deck him in the face. You can't always solve your problems with violence. Sonny takes the high road. He wants to talk about it, where T.'s like, "I don't want to talk about it." It's an interesting dynamic and shows how Sonny has grown into himself. The bullying storyline is great. It tells a great story, but also wraps up in the perfect amount of time. It's not drawn out, at all.
While dealing with this bully, Sonny is also dealing with his feelings for Will and some romantic tension with Brian (Brant Daugherty). Should fans be preparing for a Will/Sonny/Brian love triangle?

This thing is more of a five or six-sided shape than a triangle! It just stems off. It's just a mess.
Will's ex Gabi is part of that mess after the exes sleep together! In the wake of the Melanie drama, has Gabi learned her lesson? Or is she going to start playing her games with the boys?
Ugh, I don't know what I can touch on with Gabi's storyline, so I don't even want to go there! She's her crazy self, and a lot of people are involved. This is one of the central storylines coming up. It's not just a cutaway to me and Will or me and Brian. Everyone's involved.
So you won't be sequestered in "the gay storyline"?

That's what's important and that's what took awhile, too. I started off as the first gay character and that's what people were talking about. Now, people just call me "Sonny." They understand that him being gay is just a small part of who he is. Romance is involved, but it's also shows you who Sonny is, aside from his gay romance. He has a lot to deal with. He's got his work, his friends, his family, his problems.
Some fans were worried Salem's two gay boys would just fall right into happily ever after, but it sounds like they're instead being thrown into some classic soaptastic drama. 
Exactly. I give the studio, the producers and the writers so much props, because they're not tiptoeing around the gay romance. That was important to me. I was like, "Give us a three-dimensional gay storyline." So many people are on board. My phone goes off constantly. I get endless tweets and I wish I could answer and say, "This is happening," but I can't. That's the surprise of watching, but I think everyone's going to enjoy what's going on with Sonny's character. You're going to see different shades of Sonny. The audience knows Sonny's perfect self: he's Mr. Mature and Mr. Positive. But he's going to make some mistakes and you're going to see how he learns from them and grows as a character and a person. I'm so excited. I've been working nonstop and I can't wait for people to tune in, because I have so many fans. I thank them all, and they're finally going to get what they want – more Sonny.
"Days of Our Lives" airs weekdays on NBC.