Rob Corddry Begins 'Happy Endings' Stint
'Children's Hospital' star commits to multiple episodes of ABC sitcom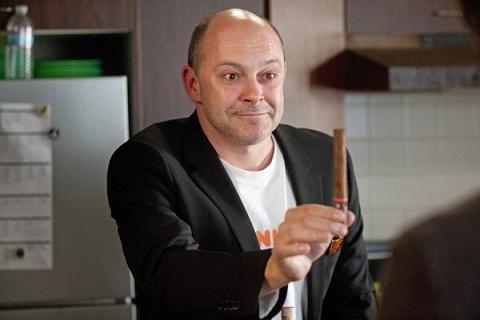 By now, you probably recognize Rob Corddry's mug from his lengthy resume of supporting roles in big-screen comedies (
"Harold and Kumar Escape from Guantanamo Bay,"
"Hot Tub Time Machine"
et al) and guest spots on dozens of sitcoms (
"Community,"
"Arrested Development,"
etc). Keen viewers may even recall his
promising-but-cancel​ed
FOX vehicle
"The Winner."
 But to fellow actors and creative types, his stock has skyrocketed since creating and starring in Adult Swim's cult favorite "Children's Hospital." Hence, it's no surprise that screwball ABC series "
Happy Endings
" has tapped Corddry for at least a pair of episodes in its upcoming third season.
Bing:
More on "Happy Endings"
 |
Rob Corddry
 |
"Children's Hospital"
TV Line reports
that he'll be playing a used-car dealer known as the Car Czar who winds up hiring Jane (
Eliza Coupe
) as a salesperson. Since Corddry specializes at playing somewhat self-deluded, giddily lecherous fellows, the part sounds like a natural fit. Now the only remaining question is, can Corddry's Car Czar outfunny TV's other memorable retail mascot,
"Seinfeld"'s The Wiz
? Tune in October 23 to find out.
"Happy Endings" Season 3 premieres Tuesday, Oct. 23, at 9 p.m. ET/PT on ABC.