Dave on Jay: Most insecure person I've ever known
Letterman breaks down his long-running rivalry with 'Tonight Show' host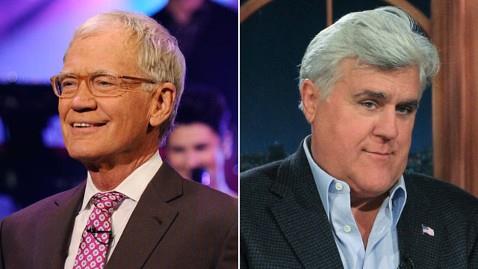 It's not clear if David Letterman is the Hatfield or the McCoy in his longtime rivalry with Jay Leno. The only thing that is clear is that the contention between the two late-night titans is far from over.
In an upcoming interview with none other than Oprah Winfrey -- the woman who tried to broker Super-Bowl inspired peace between the two in 2010 -- Letterman breaks down his issues with Leno. He also said the problems didn't start when Leno was named the host of the "Tonight Show" instead of him. Look for the interview on "Oprah's Next Chapter" in January.
Bing: More on David Letterman | Jay Leno | 'Oprah's Next Chapter'
"We were always friends before all of this happened," Letterman told Winfrey. "He has a way … he's an unusual fellow. I've never met anyone quite like Jay. And I will say, and I'm happy to say, that I think he is the funniest guy I've ever known. Just flat out, if you go to see him do his nightclub act, just the funniest, the smartest, a wonderful observationist and very appealing as a comic."
But, and here's the rub, Letterman said, "The fact that he is also maybe the most insecure person I have ever known … I could never reconcile that."
Plus: Best TV marriage proposals | Best and worst shows of 2012
Humph. So Letterman and Leno won't be hugging it out in 2013? Got it.
"Oprah's Next Chapter" airs Sunday, Jan. 6, at 9 p.m. ET/PT on OWN.