Norman Reedus: 'It doesn't look good for Daryl'
'Walking Dead' star teases fans with hints about Season 3, Part 2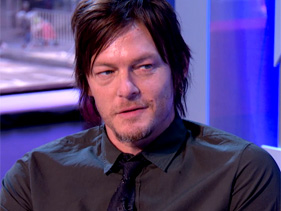 Norman Reedus is a man of few words. But when he talks, much like Daryl his beloved character on "The Walking Dead," he says intriguing things.
Reedus, 43, made an appearance on MTV's "The Big & Best of 2012" this week to talk about Daryl's fate when the zombie drama returns in February. Click here to see the interview.
Bing: More on 'The Walking Dead' | Norman Reedus
"It doesn't look good for Daryl right now," Reedus said. "I can't really say, although there were some spoilers (that leaked out). There are a lot of toes being stepped on in both camps. My brother (Merle) is back and pissed off at everybody."
Plus:  Golden Globe nominations  | 'Homeland' Season 2: most shocking moments
When last we saw Daryl, he'd been nabbed by the Governor (David Morrissey) and his henchmen and was, along with his brother Merle (Michael Rooker), standing in the center of an angry mob of Woodbury residents.
Reedus said he didn't envision Daryl and Merle's family reunion as a love fest, but he also said he didn't think it would be so dangerous and frightening.
"(Merle's) pissed off everybody, so a lot of people want to hurt him, there are a lot of people he wants to hurt," Reedus said. "And I'm kind of in the middle of both. So it wasn't exactly what I was looking forward to."
Reedus couldn't say much more about Daryl's fate but things might not be as bad as they seem. Back in October, the actor and Florida native told MSN TV his character's back story would be explored further. And that can't happen if Daryl's dead, right?
Season 3 of "The Walking Dead" continues Sunday, Feb. 10, at 9 p.m. ET/PT on AMC.