'True Blood' Shifter Sam Merlotte's 'Ridiculous' Fate
HBO star teases his character's season-finale transformation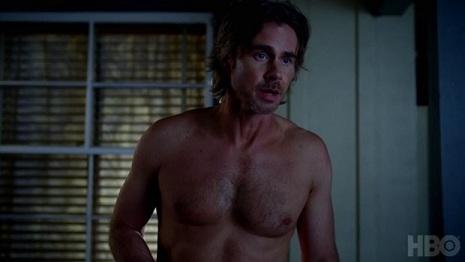 Sometimes, a journalist just has to ask the right questions. During an interview this morning on "Access Hollywood Live" with "True Blood" star Sam Trammell (aka Bon Temps' eponymous Merlotte's owner-cum-shapeshift​er Sam Merlotte), Billy Bush merely inquired if Trammell had ever been shocked by any material in the scripts. Rather than reflect on being ritually sacrificed by an ancient demon, ripping out said demon's blackened heart with his bare hands or frolicking through country stables as an anthropomorphized horse, Trammell leaked some insight into the as-yet-unfilmed season finale.
Bing: More on "True Blood" | Sam Trammell | Billy Bush
Referring to said conclusive episode, the frequently nude "TB" veteran expounded, "We just read [the script] yesterday, and there's something that happens to me that's just ridiculous." You could practically hear the sounds of network publicists cringing as he continued, "I got excited until I realized what was technically gonna be demanded. It's gonna look great, [but] it's gonna feel kind of odd."

Also: Summer reality TV fare | Summer TV guide for parents
Fortunately for HBO execs' collective cardiac rate, Trammell wouldn't give any further specifics. But considering his alter-ego's aforementioned adventures, and the series' general allergy toward subtlety, our imagination couldn't possibly do this cliffhanger justice. 
What do you think's in store for Sam Merlotte come that fateful night of August 26?
"True Blood" airs Sundays at 9 p.m. ET/PT on HBO.