'The Talk' Twitter Battle: Osbourne vs. Remini
Breaking up is hard to do, even in daytime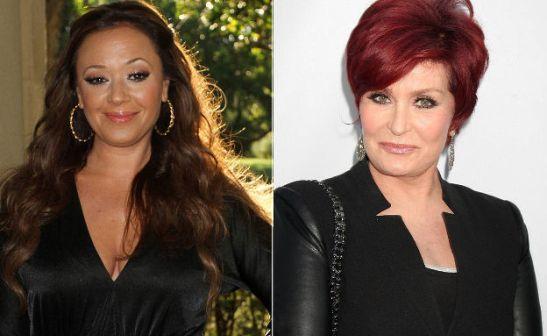 With "The Talk" celebrating its
renewal for the 2012/2013 season
, last season's co-host shakeup is back in the news. Leah Remini and Holly Robinson Peete were given the boot back in September. And even though Remini's busy working on the ABC pilot "White Van Man," it's clear she's still smarting from the breakup. The comedienne got fired up on Twitter, taking shots at Sharon Osbourne for getting her fired. Never one to hold back, Mrs. O responded and it became a Twitter tête-à-tête.
Bing:
More about "The Talk"
|
Leah Remini
It all started when a fan gave Remini a Twitter shout-out Friday, March 9, saying she wished Remini would come back to "The Talk." "Not our choice. we were fired sweetie," Remini responded.
Over the next few days, more fans started tweeting to Remini about the topic, often trashing Mrs. O, and Remini's Q&A rant snowballed. "Sharon made it happen and i guess ppl who still watch her make it happen? Sharon thought me and Holly were "Ghetto", (her words) we were not funny, awkward and didn't know ourselves… Haters Gon' Hate. True. But, Haters have the balls to say they "Hate"...not call themselves your friend. she had us fired all the while calling me and holly her friend. heartbreaking. Yes. she had us fired she told howard stern. explains why she never called us back…"
That is just a selection of the tweets, but Remini's message was clear and Sharon Osbourne heard it.
"In response to Leah Remini's continuous comments that I had her fired from @TheTalk_CBS, let me just go on the record to say... I had absolutely nothing to do w her departure from the show & have no idea why she continues to take to Twitter to spread this false gossip," Osbourne responded via twitter on Tuesday. "Leah knows that I have never been in the position to hire or fire anyone on the show.
"That being said, my only wish is that Leah would just stop all this negative, unprofessional, and childish behavior. It's been seven months. It's time to move on. Leah is a very talented actress and I only wish her happiness and success. I know that better things are to come if she can just get beyond all this negativity."
Remini, of course, responded.
"I would now like to move on from 'The Talk,'" she started in a string of tweets. "I answered a question on Twitter from fan who wanted to know what happened AGAIN. I answered from the information that was given in an interview from Howard Stern. This is what happens when ppl dont get HONEST answers. This is what happens when shady stuff goes down and no one wants to man up. Now, we get games being played on Twitter. No one is perfect, including me. This is a waste of time. I will not respond to Sharon BUT only to say this, IF she wanted to clear it up she has my number & has had ALL this time and didnt use it. not even to say she was sorry. so to Sharon I say... Well done Sharon, you won. I will move on now as you suggested. And so should u. Be at Peace."
Remini also claimed Osbourne is just looking to get publicity and that Mrs. O wouldn't be mad if what she was saying wasn't true. "If someone wants me to stop, they should call a lawyer and tell them what i am NOT telling the truth abt. we can go from there."
These ladies certainly know how to to talk the talk!
"The Talk" airs weekdays on CBS.