Kelsey Grammer Gets Personal on 'Anderson Live'
'Boss' star talks 'Real Housewives' regrets, his new wife and their miscarriage
On the heels of allegedly ditching "Piers Morgan Tonight" over footage of his ex Camille, Kelsey Grammer bared all on "Anderson Live" in an episode airing Wednesday, Sept. 26. No topic seemed off limits during the "Frasier" star's sit-down with Anderson Cooper. In addition to talking about his new wife and her miscarriage, Grammer also talked about awkward marital moments caught on "The Real Housewives of Beverly Hills" and whether he has any regrets. 
Bing: More about "Anderson Live" | Kelsey Grammer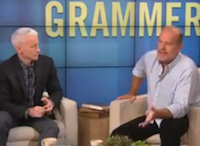 "Ooh, boy. There is a ton of things actually that I do regret," Grammer admitted. "But I can't spend my life apologizing. There are several things I regret. I regret that I didn't spend more time with my daughter Greer. I regret that I didn't tell Kayte I love her as often as I should, but I'm still working on it so it's okay. We make mistakes in life hopefully with people that know how to forgive. There is an old Chekhov saying: Since we are forgiven it's foolish if you can not forgive."
That question came from Twitter, but reality fan Cooper followed up by asking whether Grammer regretted taking part in "The Real Housewives of Beverly Hills" with his ex-wife Camille.  
"I was trying to pretend things were normal for the sake of letting her have that moment," Grammer said. "It was just ill advised. It was the wrong decision and I should have come home from England when I first met Kayte and just said, 'Listen I've met somebody and this hasn't been working for a long time.' I regret not doing that. I thought I could do something nice, some parting thing and so it was very painful and uncomfortable. It was uncomfortable for Kayte, it was uncomfortable for all of us."
Plus: Shows that are ending | Fall TV's familiar faces | Fall TV premiere dates
Grammer, who welcomed a baby girl in July, also spoke about dealing with his wife's miscarriage of the twin boy she'd also been carrying.
"It's tough," he shared. "That was really hard. Kate and I both have not really allowed ourselves to mourn him. He was our little boy. It's funny. We had gotten to the point where - because it's a high risk pregnancy as soon as you have twins, and so we lost him at fourteen weeks, just after they said it was okay to tell everybody. Yeah, it was a sad, sad time."
As for that photo that spread of him getting a tattoo of his wife's name, he hadn't intended on sharing the moment with the world.
"I didn't really release it," Grammar told Cooper. "The kid doing it said, 'Do you mind if I take this for my Facebook page?' And then boom it was like in the Chicago Tribune. It was a little nuts. We just thought on a Saturday, let's go out and have a little fun. Kate had said to me several months before, 'Would you ever get my name tattooed on your body?' And I said, 'Yeah, I suppose.'"
Grammer also reveals whether Kayte has a tattoo of his name and talks about being in love.
Cooper's other guest on Wednesday was "The Real Housewives of New Jersey" star Teresa Guidice, with Kellie Pickler clocking in as his guest host.
"Anderson Live" airs weekdays in syndication.