'The Vampire Diaries' Talking Points: To Mr. Saltzman
Alaric sacrifices himself to save the others as Elena and Stefan reconnect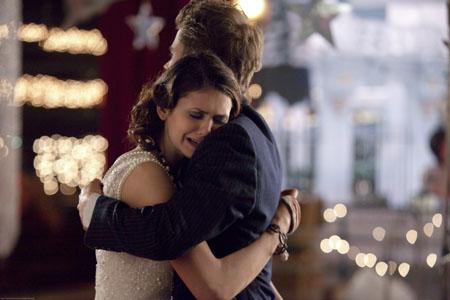 OK, "TVD" fans, pull out the tissues for this one. It's going to be a weeper.

Last week on "The Vampire Diaries," Damon and Elena started exploring – and accepting – their feelings for each other while on a road trip to bring kid bro Jeremy home from Colorado.
Also: What shows will be returning next season?
On the way, they went looking for Rose, who could reveal which blood line the Salvatore brothers and all their sired vamps came from, so when they finally found the White Oak stake that Bad Alaric had hidden, they'd be able to rid themselves of only the right Original.
Bing: More on "The Vampire Diaries" 
Meanwhile, Alaric was working with Rebecca-turned-Esthe​r, who wanted to take out all her children, too. 
This week, she went to Klaus, who, of course, thought she really was Rebecca and that it was a back-handed plan (Rebecca pretending to be Esther). So when Rebecca handed him "the White Oak stake," he burned it and told him her he was off. She convinced him to stay for the dance that evening, so he could see Caroline.
Then Rebecca returned to the crypt, where Alaric was waiting. She handed him a stake, and he stabbed her, returning her to Esther's body.
Meanwhile, the girls were getting geared up for the dance. Elena was under the impression that the girls were going together. But Bonnie had a date – with Jamie. So Caroline suggested Elena reconnect with her "everlove." And she wouldn't take no for an answer: "I've watched 'The Bachelor,' fair is fair! And it is Stefan's turn."
Stefan said yes when Elena called, but Damon sulked in the background. Damon went to the hospital to see Dr. Meredith Fell. He told her Alaric hadn't been taking the herbs.
Esther took Alaric to the grounds where close had killed her. There, she put a spell on his ring that would make the White Oak stake indestructible – so again, when he killed one Original, he'd kill them all. "The ultimate weapon, for the ultimate hunter."
Elena got all flappered out for the dance, and Stefan all dappered up. Once there, a slow dance. It almost felt like old times. 
Speaking of old times, Caroline warned Matt not to fall for Elena again – she didn't want him caught in the crossfire. 
And Tyler was jealous of Klaus, but he would pretend to be sired, still, so that things would go smoothly. Then Jeremy ran into Bonnie and her date Jamie. Awkward. 
When Elena tried to talk to him about Damon, he told her, in the end, if they were together, she could tell him then. "After everything I put you through, I'm just honored to be your date tonight." But things weren't going to go that smoothly. Damon showed up. He wanted to kill Alaric. "A mercy killing." But Jeremy overheard, and he wasn't having it. 
Then Esther showed up. "If you wish to help your friend Alaric, then I suggest you come with me." She dragged her off, but not before laying down a layer of salt around the school – so none of the men could follow.
Back at the graveyard, Elena was happy to see Ric, but Esther's plan was to create another vampire hunter like her husband Michael, undefeatable. She said every time Alaric died, she was there, on the other side, nurturing him. "Every death brought him closer to his true self," Esther said. "Vampires took everything from him. Now he's getting his vengeance." 
Elena tried to convince him to come back to them, but he told her she didn't really know him. "You'll have to kill me," she said, "I won't give you my blood." But Esther took it, poured it in a bowl, and Alaric drank. Then Esther stabbed him. Again.
At the dance, Caroline was caught between Klaus and Tyler. "You should be nicer to me," Klaus said, "I'm leaving tomorrow. Perhaps one day, in a century, you'll turn up at my door, let me show you what the world has to offer. Mark my words, small town boy, small town life, it won't be enough for you."
Klaus took off, but the salt kept him captive. "Your mother's back," Stefan told him. So he went with Stefan to where Bonnie was trying to uncast the spell, then tried to attack Jamie to prove a point. But Stefan talked him down. Bonnie continued to work to find Elena. They figured out that she was at the old cemetery – and Jeremy and Matt went off to find them.
Tyler suggested to Caroline that they kill Klaus. But they couldn't. It would mean losing to much. "It doesn't matter how many times I dance with him," she said. "I love you."
Elena told Esther she'd created new evil. "You're no better than Klaus," she said. But Esther said she was ridding the world of vampires. For people like Jenna. "She knows peace," Esther said, "which is all any of us can hope for." That's when Jeremy and Matt showed up with their stake guns. Esther made them turn their guns on each other. That's when Alaric awoke and staked her. "Where's my ring?" he asked. "Tell me what happened."
Stefan told Klaus, "As far as Esther, we stopped her before, we'll stop her again." Klaus said the situation reminded him about their times in the roaring twenties, real moments of brotherhood. But Damon reminded him that Stefan already had a brother. That's when Bonnie marched out to tell them the boundary spell was broken. When Stefan thanked her, she said: "I didn't do it for you." 
At the cemetery, Alaric told Jeremy he couldn't complete the transition. He wanted to die. "Alaric, this isn't your fault." He wanted Damon to make sure it all went down the right way. "Don't give me some crap speech about how I need to be the man of the house," he said.
"This is all my fault," Elena said, "I made you stay and take care of us." But Alaric told him that was the closest he'd ever gotten to the life he wanted. Outside, they were all waiting. He bade them a silent goodbye, then turned around and walked back into the cemetery, closing the gate behind him.
Back in the crypt, Klaus de-staked Esther, who still lay "dead," then barked that she would never destroy him.
Bonnie thanked Jamie for the ride and the date. "You really are pretty amazing," he said. "I'd settle for just ordinary," she told him. Later, half-asleep, Bonnie saw Esther. "Your sisters need you to finish what I started." A dream?
Jeremy and Matt shared a shot at the bar. "To Mr. Saltzman."
Elena, blood staining her dress, was at the school, gathering Alaric's belongings. "I can't think about the fact that Jeremy and I have lost another friend," she said to Stefan. He took her to the gym, still decorated for the dance. He reminded her who told him it was okay to feel, no matter how much it hurt, that it was emotions that made them human. "I don't have anyone anymore," she said. To which Stefan replied: "You have me." 
At the cemetery, Meredith told Damon she'd given Alaric a sedative. "You shouldn't leave him alone in there." So Damon went in. "Is this the part when you give me a dream, luminescent rolling green hills." Tears streaking his face. Damon said: "Sorry I killed you. Twice."
As Alaric went, slowly, Damon ventured out into the cemetery. There, Bonnie, still in her flapper gear. She went into the crypt where Alaric lay dying and cut her hand, making him drink, slamming the White Oak stake into his hand.

Uh, oh. Looks like times are about to get really tough for the brothers Salvatore and their ragtag band of pals when Bad Alaric comes back full force as an indestructible vampire hunter next week. 
"The Vampire Diaries" airs Thursdays at 8 p.m. ET/PT on the CW.