First Look: Shirley MacLaine vs. Maggie Smith
'Downton' crabbier as Dowager Countess meets her match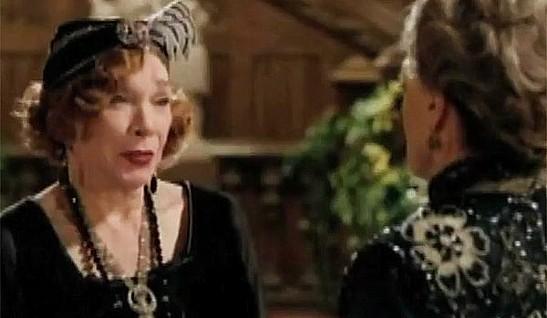 Thanks to a clip from the American Film Institute's 40th Life Achievement Awards, we know that barbs fly as early as the first meeting between Maggie Smith's Dowager Countess and the new crab in town, Shirley MacLaine's Martha Levinson, in "Downton Abbey's" upcoming Season 3.

Bing: More about 'Downton Abbey'

In the clip, Levinson (mother to Elizabeth McGovern's Lady Cora) snipes that "the war has made old women of us both" and that, upon her return, she finds Downton "probably too much the same, but then I don't want to cast a pall over that."


The Dowager Countess's passive-aggressive retort: "How could you ever do that?"
Plus: Fired TV actors | Also: Prime-time soaps: Then and now | Here comes the pride

Check it out yourself:
Cast member
Joanne Froggat
told
The Clicker
to expect "some spiky conversations" between the two sparring partners.
Season 3 of "Downton Abbey" premieres in 2013 on PBS.