Steve Burton teases 'Young and the Restless' run
'General Hospital' vet talks new life, new wardrobe, new love triangle and more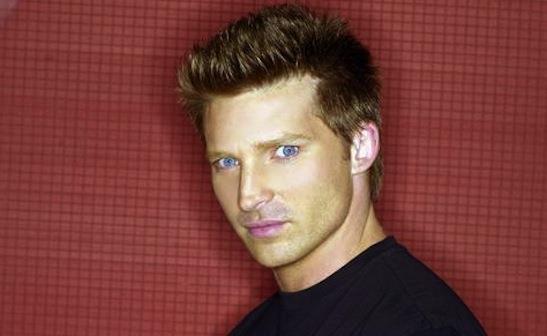 After playing a "Stone Cold" straight man for over 20 years on "General Hospital," Steve Burton is enjoying his new "Young and the Restless" digs. In fact, he was all laughs when MSN TV caught up with him.
Bing: More about Steve Burton | "The Young and the Restless" | 'General Hospital'
With war veteran Dylan McAvoy set to show up on the scene Tuesday, Jan. 29, Burton teased his upcoming love triangle with Nick (Joshua Morrow) and Avery (Jessica Collins), discussed his controversial move to Genoa City and revealed his love for working on the other side of the camera. 
Plus: 15 TV actors who have worked with Kevin Bacon | Canceled or renewed
How has it been to return to the daytime grind without Jason Morgan's uniform?

It was refreshing. I'll always be grateful for the time I spent at "General Hospital" and my limited wardrobe choice there. I never had to try stuff on. I'm not used to wardrobe fittings. I had to try on in about 20 different outfits [recently]! That was really grueling. (laughs) It was important to shake the leather coat and black t-shirt and do my hair different, because I know people are always going to see me as Jason. I feel like I can do something different, now.
What can we expect from your new character, war veteran Dylan?
I'm still trying to figure out who this guy is. But oh man, it's interesting because I get to play a lot more of myself. Jason was so stoic and didn't really get to show a lot of personality, unless it was with Spinelli or Sam. I've smiled more on the show than I ever have in my life. Dylan definitely has a sense of humor. You get to see a lighter side of me, as an actor.
Avery is in for a shock when Dylan shows up at the opening of Nick's club. She thought he was dead! Does that mean there's going to be no bad guy in this triangle?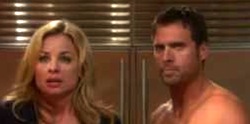 Yeah, and it's cool that it's worked out that way, as opposed to [my playing] Avery's ex husband, with the affair and all that. Avery and Dylan have a great relationship. We do a bunch of flashbacks, so you get to see that my character has fun and we were in love. I come to town just to see if she's happy and if she wants to get back together. Nick and Dylan will definitely fight for her, but ultimately, it's going to be her choice.
Has Dylan crossed paths with any other locals, yet?
I've had scenes with Sharon Case (Sharon) and Michael Muhney (Adam). I'll be branching out, but I'm really working with Josh and Jessica, right now. It's been a great experience. Josh and I use to hang out a lot when we were way younger, so we went out to lunch yesterday for about 3 hours. Is that a great job?
There was a bit of a backlash from "General Hospital" fans about your move. How have fans responded since you've spoken out?
The reaction now that people know the story is good. People are happy for me, because I'm happy. At first, it was difficult. When the news broke the day after Christmas, we had no deal. I'm pretty active on Twitter, but literally, a whole week went by where I couldn't say a word!
[My family] moved to Nashville in August. There were talks right before I left "GH" between my manager and business affairs about a possible fly-in [schedule], but it didn't work out. Along with that, it was just time for a change in my life. I so greatly appreciate my time at "General Hospital." There's no hard feelings, but CBS and Sony are affording me a lot of opportunity. Jill [Farren Phelps, executive producer at "The Young and the Restless"] already had a fly-in deal for me when she was at "GH," so it was a no-brainer. I've never had a deal done so quickly in my entire life. Literally, it was one day. For me, it was meant to be that it didn't work out on "GH" and now, I'm off doing some other things.
One of those other things is working with your former "GH" nemesis, James Franco. What do you have going on with him?
I'm helping [James] with a few movies, on the production side. Basically, taking two stories from book to script to raising the money and producing it. I love directing and producing. That's what I want to do. Then we're real close on this novella that I've been talking about for 29 years now! We're literally a week away. That would be a TV show James and I came up with for his production company. We'd be doing that with Jill Phelps and Sony. I'd be producing and acting.
James was on "General Hospital" with you and also did a stint on Phelp's last show, "Hollywood Heights." Could you see him joining you on "The Young and the Restless," at some point?
I will never allow James Franco to be on this show, ever! I love James, but when I was at "General Hospital," I told him, "You're ever coming back again!" He was there for what? 20 shows? And he ruined my [character's] life. In Hawaii, Jason was married and happy for four days, until Franco showed up. Then I was depressed and killing myself for the next two years. It was horrible! (laughs) I don't know if he would come here or not, honestly.
You're also set to go on tour with your Port Chuck band mates Scott Reeves, Brandon Barash and Bradford Anderson, right?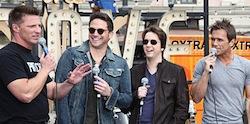 February 9, we start in Chicago. Ten cities, ten days. This is the time we really start getting busy. We're figuring out the staging and all the stuff we have to do is pretty cumbersome. We start rehearsing next week and then we get on a tour bus for ten days.
You have so much going on! How often will we see you in Genoa City?
I'll be on the show less than I was on "General Hospital." Hallelujah! I'm sure there will be times when I'm four or fives days a week, but the average we're shooting for is three days a week. I love working, but I'm at a point in my life where I don't want to work every single day, because I have so many other projects going on. I'm excited!