Exclusive Interview With Margot Robbie of 'Pan Am'
Australian actress spills on culture shock, '60s style, and life as a highflier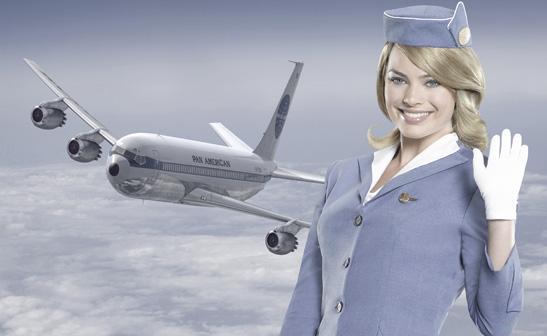 New York newbie Margot Robbie can certainly relate to her character Laura Cameron, a wide-eyed, rookie stewardess, on ABC's new '60s-centered hit "Pan Am."
Bing: More about Margot Robbie | More about ABC's "Pan Am"

After all, the Australian actress touched down in the States just a few months before landing the coveted role. We caught up with the actress to chat about the '60s, her New York adventure and why viewers should get on board with "Pan Am." "Pan Am" airs Sundays at 10 p.m. ET/PT on ABC. 
MSN TV: How much did you know about Pan Am and that high-flying culture before you got the part?

Margot Robbie: Very little. I didn't know very much about it at all because Pan Am is very much an American company, and they didn't fly to Australia very often. So there, it's not the icon it is in America. I knew it was an international airline that went under, but I had no idea about the crazy culture, what the stewardess and pilots did, all it represented. But I loved researching it. The '60s are my favorite decade -- with the Cold War, the women's movement. And then there's the music, the fashion, the clothes, the hair. It's just so crazy and amazing.
Runaway bride Laura is the innocent of the group, so to speak.

It's really easy for me to relate to my character -- because I'm new to the job, I'm new to the country, I'm new to New York. I've been working in Australia, of course, but I'd never been to America and New York City. I got here when we shot the pilot.

Where have you guys been shooting?

It's fascinating to see how versatile New York City is. It lends itself to being so many different places! We shot the last episodes -- Jakarta stuff in Brooklyn -- at a Buddhist temple down the street from the studio! I can hardly believe it myself when I watch it on TV, because it looks incredible. It looks like we were there. And the special effects -- you'll see a lot more of that upcoming this season -- they're just amazing. But New York is amazing. If we're in London, we'e shooting on the Upper East Side. You add fog machines, a little bit of rain and maybe a double-decker, and you've got London. It's just crazy. We'll go to Long Island and use these amazing mansions and old houses, and we recreated Berlin there. And Brooklyn is just brilliant: It can go Caribbean. We can make it look like anywhere.
Has New York been a bit of culture shock for you personally?

For sure! I remember when I was in the cab on the way from the airport. I was just craning my neck, looking up and thinking "Oh, my God. This really is a concrete jungle." There's really nowhere like it. And I'm used to growing up on acreage, and my family has a farm -- just endless space. So, it's so different. In Australia, everyone's cruisy and casual. And you get here, and everyone's just racing around. The city has this real, palpable energy to it. I love it. It's so exhilarating. It's a fantastic place to live, especially at 21. I'm just having a ball.
Most of the show's viewers wouldn't realize you're Australian. On the show, you do a flawless American accent.
Honestly, that's the highest compliment I get, when I run into someone and they're like, "You're Australian?!" Even members of the crew will come up and be like, 'Wait, wait! Where are you from?' It's a credit to my dialect coach, but I've been studying for two years. But now that I'm surrounded by Americans, it's getting easier and easier every day. I hear myself saying things differently. I'll get teased about that when I get back to Australia. But if you knew me a few years ago, you wouldn't understand what I was saying, because I grew up in Queensland, which is like the equivalent South here. The accent is really nasal and broad. When I started on "Neighbours" in Australia, they got me a coach because they said I sounded too nasal and too Australian!
On the show, you've done London, Rangoon, Berlin. What can we expect next?

Oh, it's so exciting! There's a storyline where Laura has a love interest who's an African American sailor -- which, in the '60s, was really controversial. In '63, before the Civil Rights movement, everything was sort of at a boiling point. Everyone was on the brink. You've got Martin Luther King Jr.'s speech incorporated into that episode. The first few episodes, everything was approached pretty delicately, but we're straight into it now, no holding back. It was just such a different world. I have to keep reminding myself: I can't be shocked by it, because, for my character, that's just the way things are. In the script I just read, we go to Haiti, and it's insane. It's like an action flick, like a war zone, with people dying. The historical stuff is just so interesting and the stakes are so high. It's really, really high drama. And it was all real. That's the way things were then.
What is it about the '60s that makes it so popular today?

Certainly there's a huge appeal to the '60s, because it was such a big turning point to everyone. It was the era of change, the boiling point. People rebelled against things -- the hippies, the feminists, the protesters. All these things just built up and boiled over. I think people can relate to that today.
"Pan Am" airs Sundays at 10 p.m. ET/PT on ABC.
Are you sure you want to delete this comment?