Lindsay Lohan's Daytime Drama
Forget the drinking: No one stands up Matt Lauer!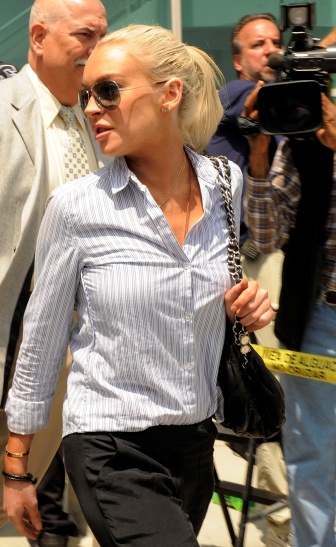 By Deanna Barnert
Special to MSN TV


Lindsay Lohan was back in court after failing an alcohol test, but day timers are clicking their tongues at LiLo for other reasons. It seems Matt Lauer flew to all the way to the West Coast to catch up with La Lohan on Tuesday and the diva left him hanging!
"Some of you may have heard that I was actually with Lindsay on Tuesday afternoon at her home in Los Angeles," Lauer said on "Today" June 23, 2011. "We were supposed to sit down for an interview to talk about her current situation and her plans for the future. At the last minute, Lindsay and her people did express concern about the timing of the interview and it was canceled. I think we're learning more this morning about the reasons for their concerns."
Bing: The latest on Lindsay Lohan 

Lauer was referring to Lohan's most recent day in court, which came because she failed an alcohol test. While she ultimately was returned to house arrest, she was given a scolding (for whatever that's worth!) and told not to have any more parties.

"Don't give people reason to hate you. Don't do stupid things that fly in the spirit of the court's order," Judge Stephanie Sautner told Lohan. "You know I sentenced you to jail. You know I didn't sentence you to house arrest, and what do you do? You have barbecues at your house so your neighbors are writing letters about you."

While Lauer pointed to Lohan's current troubles as the probable reason for her cancelation, industry buzz is still offering various reasons, ranging from Lohan's demand for money to her refusal to do more than a 15-minute interview, so the rest of the NBC gossip shows could have their own fresh Lohan tidbits.

MSN TV is curious to see whether Lohan reschedules with Lauer, which depends as much on her interest as it does on whether Lauer is willing to make another trip West.