'Scrubs' Reunion Set for 'The Exes'
Braff to join old chum Faison on TV Land, and it will presumably feel so good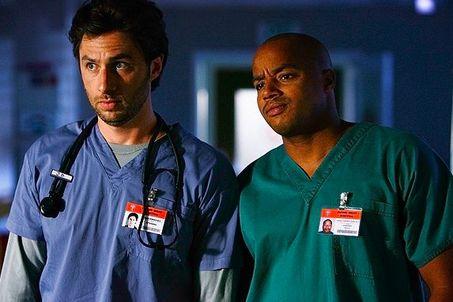 It's an unwritten rule in showbiz: If two actors star alongside one another for years on a popular sitcom, and one eventually moves on to a new series, his former comrade must at some point make a guest appearance on said follow-up endeavor. Hence, it's no surprise that TV Land has announced

Zach Braff

will make hilarious comedy magic once again with his longtime "

Scrubs

" chum

Donald Faison

on an Aug. 29 episode of "

The Exes

."




Bing: More on "The Exes"

 |

Zach Braff

 |

Donald Faison

 |

"Scrubs"




While they engineered a legendary, often uncomfortably intimate "bromance" on their beloved ABC medical comedy, Braff's role on "The Exes" may take that relationship in an even more explicit direction. He'll playing tennis star Chuck Fenney, a client of Faison's skirt-chasing sports agent, Phil Chase. Except Fenney has his eye on more than just the ball. Specifically, as the TV Land announcement states it, he's more of "a man's man."

 

 

We can only assume this implies Chuck will put the fiercely hetero Phil in some kind of awkward situation in which both hijinks and humility ensue. But mostly hijinks.




"The Exes" airs Wednesdays at 10:30 p.m. ET/PT on TV Land. Zach Braff appears on the show Aug. 29.