Lei-over for 'Mad Men'
Photos leak of cast shooting Season 6 in Maui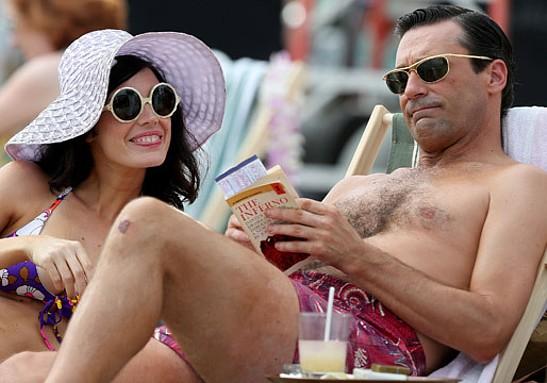 The cast and crew of "Mad Men" will brave any hardship to get their series in the can. And to prove it, Jon Hamm and Jessica Pare (who play Don Draper and his wife, Megan) were spotted beginning Season 6 in Maui.


Pare sported the prerequisite Raquel Welch triangle bikini, Hamm some paisley trunks and a '60s-hairy chest in some of the paparazzi photos, the first of which was published by TVLine.

Bing: More about Jon Hamm | Jessica Pare | 'Mad Men'
 
Since this is "Mad Men," secrecy is high. But it appears as though that hint of a breakup in the Season 5 finale was a red herring.


Is the couple in Hawaii to rekindle their marriage? Is it a business trip for Don? Is Megan just filming her recurring scenes in "Hawaii 5-0?" Or are they attending another character's wedding? (In photos published by England's Daily Mail newspaper, Hamm is seen shooting scenes with an unknown woman dressed as a bride.)
Plus: TV's Halloween specials | Fall TV guide
Whatever. Just as long as nobody finds a cursed tiki idol on the beach.

Season 6 of "Mad Men" is expected to premiere sometime in 2013.
"60's hairy chest?"
Hmmm...I'm pretty sure that men in the 21st century have hair on their chests too. Mr. Hamm for instance. Ralph Fiennes, Hugh Jackman and Rob Pattinson to name just a few more off the top of my head. Not all modern men have fallen for the fad of de-furring themselves for fashion. And a lot of women really appreciate it. Altho probably not the ones that are de-furring themselves. Keeping the goodies tidy is one thing but wanting to look like pre-adolescent girls is another. It's like tatoos. Another fad, only this one sprung from pornography. Stupid women. Altho I do wonder about the grown man who prefers his grown woman looking like a 12 year old girl. What's up with that? What does he really want? Just asking.    
Are you sure you want to delete this comment?