Nadia Bjorlin talks 'Days of Our Lives'
Chloe and Jennifer's fight for Daniel is going to get dirty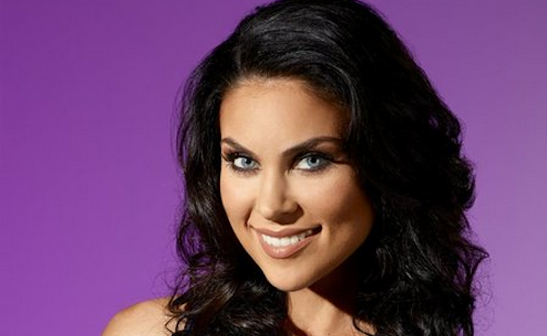 Chloe Lane has jumped right back into the drama on "Days of Our Lives." With her son Parker in tow, she's got her eye on winning back Daniel and becoming the happy family she once dreamed they'd be. Easier said than done! Nadia Bjorlin talked to MSN TV about whether Chloe has recovered from her prostitution run and how much of a fight her character can expect from her competition, sweet Jennifer.
Bing: More about 'Days of Our Lives' | Nadia Bjorlin
How is it to be back in Salem again?
Oh, it's fun. Chloe's back to her shenanigans.
When we met Chloe in high school, she was the mark, but she's become quite the schemer over the years. Where does she fit on the spectrum these days?
She's come back stronger, with a better sense of self. She's trying not to let people get to her. Like you said, in the Ghoul Girl days, she was the mark and she became stronger, but then she became the mark again and became victimized. She's working hard to not be that. She's refocused her life on what's important, which is her son. She wants to give Parker the best possible life, but I don't think it's playing out the way she thought it would! The logical thing would be that Daniel would find out the truth [about Parker being his son] and drop everything to be this happy family. Because it doesn't pan out the way she expected to, she might be making some bad, irrational spontaneous decisions. It's all for her son. She may end up hurting people along the way, but she has the greatest intentions. 
That's the common thread in the character, even when she's been unrecognizable. Chloe has a great heart and does everything out of love. Because she grew up without that stability, she has abandonment issues and holds onto that fairy tale existence.
More: 'Survivor': Where are they now? | TV reunions we'd like to see
Like fans, you were open about the fact that you felt the prostitution storyline went overboard. How do you feel about how Chloe's doing now?
She's a little bit more back on track. She's motivated by different things this time around, but she has a little more soul searching before she becomes that strong, independent woman she was at one point. She may think she is there, but she certainly isn't. She's got a lot more dealing to do! She needs a lot more therapy.
Jennifer's made it clear she's going to fight for Daniel. How dirty will this love triangle get?


It's going to get pretty dirty and pretty mean. Underneath it all, these women are both fighting for what they believe in and the love they believe they have - and maybe they do have. But along the way, both sides may lose site of their good intentions and start playing dirty.
Is Chloe going to bring out a side of Jenn we're not used to seeing?
Yes! Jennifer's never dealt with something like this and maybe it's playing on some insecurities she didn't realize she had. You're definitely going to see a side of Jennifer you're not used to seeing, and I think it was hard for Missy [Reeves, Jennifer] as well, because she's so unbelievably sweet. Some of the things we had to say and do to each other, she was like, "Oh my God, I'm so sorry. I don't know where this is coming from." I was like, "Just embrace it."
Is Jennifer a match for Chloe?
Oh please, she is no match for Chloe. No, I'm kidding! I'd like to think that, but she actually puts up a pretty good fight.
Do you think Daniel is the man for Chloe, or is she fighting for a fantasy?
I hadn't even thought of that. Yeah, you may be right. The fight isn't even over Daniel. It's over what he represents. At this point, the great love of her life is Parker. Whatever would be best for him, or what she thinks would be best for him, is all she's concerned about.
Chloe was off with Philip in Chicago. Could you ever see Chloe going back to Philip? Have you talked to portrayer Jay Kenneth Johnson lately?
I haven't talked to him in a long time! You never know. He could always be back, but right now, it doesn't look that way. I always loved the Phillip and Chloe dynamic and their twisted love. They're the ones who always fought the most. There's a deep-seated passion there. It was never specified that in Chicago they were 'together.' They were in the same space, but for now, I don't think they could see a romantic future with each other. So much has happened between them. So much drama!
What would you like to see for Chloe?
I enjoy playing the craziness, but I'm also emotionally connected to that character. I'm so protective. After so many years, you want to see the best for your character and sometimes you go, "Oh no, why is Chloe doing this?" (laughs) But hey, it's a soap. It has its ups and downs - and she is far from done, that's for sure. She might be having a bit of a relapse. She's worked on herself, become stronger, but the pressure is getting to her this time around, as well.
Salem is putting her through the ringer?
No one gives poor Chloe a break. She's probably one of the only characters - the only female, at least! - who hasn't tried to murder anybody, poison anybody or any of that. Chloe does everything out of love and people give her so much crap.
What about life outside of Salem? How are you and boyfriend Brandon Beemer (Owen, "Bold and the Beautiful") doing?
Wonderful! We have fun together.
And all your outside projects?
I don't even know when "Divorce Invitation" is being released. I haven't even seen the movie yet. I'm getting ready to shoot "Venice: The Series" this month, which should be fun. Other than that, it's pilot season, full force. I'm out there and keeping super busy, but I'm so glad I came back to "Days." There were so many unanswered questions, even for me, in that whole abrupt exit and the whole prostitution thing. There's so much more story to tell with Chloe that I was absolutely happy to come back and at least help work some of that out.
"Days of Our Lives" airs weekdays on NBC