Sharon Case Q&A: Take a July 4th Road Trip Into Sharon's Past on 'The Young and the Restless'
From teen rape victim to felon on the run
By Deanna Barnert
Special to MSN TV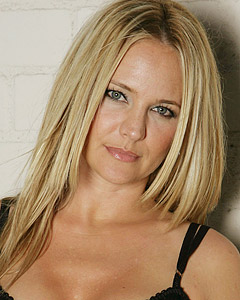 Genoa City locals are busy preparing for their annual Fourth of July barbeques, just like the rest of us, but Sharon Newman Abbott Newman has a different holiday agenda on "The Young and the Restless." With a murder rap hanging over her head, Sharon is still on the run and presumed dead and on July 4, she'll sit down to write the story of her life. Sharon Case talked with MSN TV, previewing the special episode, which promises to be full of flashbacks going back to Eddie Cibrian's run in the mid-90s. 16 years may not sound like a long time, but in the world of soap opera rapid aging syndrome, Sharon Newman has been put through the ringer and back more than a few times.
Bing:
More about Sharon Case
MSN TV: Sharon has been hiding out with Sam for awhile, but word is, she'll return to Genoa City by end of summer. Is this a Dear Sam letter she's writing on the July 4 episode?
Sharon Case: No, she ends up staying the night at his house, so she feels bad. She didn't mean for things to go that far with him and now that they've spent the night together, it's wrong to carry on lying. She can't tell him the truth face to face, so she decides to write him a letter.
Video:
Watch clips and episodes of 'Young and the Restless'
What goes into this letter?
Once she starts writing, she ends up going way back to tell the whole story of her life. It was a lot to cover in one long, comprehensive letter to Sam. [Laughs] But she wants what's going on now to make sense to him. "I'm a fugitive and I've been convicted" just doesn't tell the whole story.
While she's writing, she pauses and thinks about her life. They run all these flashbacks, going all the way back to Matt Clark. It's a neat way to tell the story of everything she's been through. It's heartfelt, writing this letter to someone who has become meaningful in her life. It isn't showboating. It isn't forced. It seems natural.
Are we going back to the original Matt Clark?
Yes, Eddie Cibrian, who's now on "The Playboy Club" -- That's amazing! It goes back to the days when Eddie and Joshua [Morrow] were fighting and he gave me the coat and then there was the date rape. That was before Rick Hearst (Whip, "Bold and the Beautiful") brought Matt back. I don't think we cover that. I think we also skip over Cameron Kirsten, but I'm not sure. He was so great. I love Linden Ashby (Cameron; Sheriff Stilinsky, "Teen Wolf"). I wish he'd come back.
He and Susan Walters (ex-Diane; Carol, "The Vampire Diaries") are one of the hottest, most talented real life couples to come out of daytime!
You are absolutely right. They are both amazing, but I don't want to say that without saying how great Maura West is in the role of Diane. She's fantastic and looks beautiful on the show. She's so captivating to see on TV. Susan was entirely different. You cannot even compare them, because I couldn't imagine anyone else playing that role but Susan, but then I love what Maura is doing. It's a different character now. I liked how she changed Diane. I could watch it all day. When you do recasts, it's better to let actors do what they do best. Let them make it their own, and that's what Maura did.
So did you get to watch Sharon's flashback clips?
No, but I read what they were in the script. I remembered all of them. They're all crazy. I've had great storylines and a lot of them have been wild, but very well written. I don't think I've ever had one of those "soapy storylines," whatever that means.
Isn't Sharon about to return from the dead?
She is returning from the dead, but here's the thing: Sharon's not really dead and the audience saw that. If you see someone truly dead and buried and then they actually come back from the dead, that's different.
Are you looking forward to Sharon finally returning to Genoa City?
After crying every day in court and the long progressive drama, it was relaxing to be in the barn for a while. Then I got "restless" and I wanted to get out of the barn, so I'm glad to be moving on.
And getting back to being a blonde?
My hair's been lightening slowly, week by week. I don't want to go back to platinum blonde, but I do want to go back to being blonde. It started out really dark. It was fun for the storyline. For me personally, I didn't like it.
Will returning throw Sharon right back into the romantic triangle with Nick and Adam?
There's all kinds of shapes going on, now! Adam and Nick still love Sharon and Sharon loves them, and now Sam's in it -- and Sam is the fighting kind. He's a good ol' boy. We'll have to see what happens when all this gets sorted out.
Who do you think Sharon belongs with?
Sharon belongs in the Shick & Shadam triangle! We'll see where she lands one day, but for a long time, that is where she belongs.
"The Young and the Restless" airs weekdays on CBS.