'Days of Our Lives' Nabs Brant Daugherty
'Pretty Little Liars' hunk is coming to play with the boys of Salem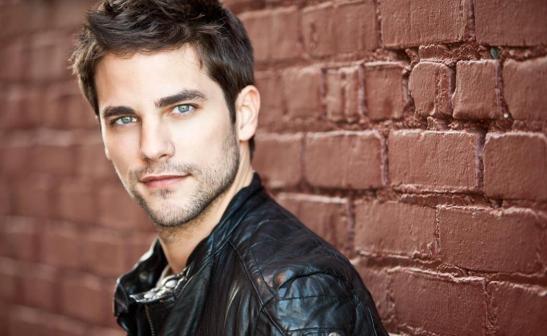 "Days of Our Lives" has landed one of the pretty boys from "Pretty Little Liars" for an upcoming storyline. Brant Daugherty checked in for a guest-starring stint on April 23, but there's no word yet on when his character will show up in Salem.
Bing: Watch clips and full episodes of "Days of our Lives" | More about Brant Daugherty
"Shooting an awesome guest star arc on Days of our Lives starting today! I'm excited to see what their process is like. Should be fun!" Daugherty tweeted on Monday, April 23. After his first morning in Salem, he followed up with, "Mad respect to the soap stars that do this every day. This schedule is insane!"
Also: Top 25 TV actors under 25
During his recurring tenure on "Pretty Little Liars," Daugherty played creepy ladies man Noel. It sounds like this stint, however, will be about the boys. He's in an upcoming storyline involving "Days of Our Lives" gay youngsters Will (Chandler Massey) and Sonny (Freddie Smith), according to Soap Opera Digest. That could mean just about anything for Brant's new character. He could be Will's first bully, Will's first love or even better, "Days" may just follow its first gay kiss with its first gay love triangle.
This new arrival seems to be part of the recent shakeup at "Days of Our Lives." With a new writing team in place, more changes and additions are sure to come. So far, stars Matthew Ashford (Jack), Sarah Brown (Madison), Christie Clark (Carrie) and Patrick Muldoon (Austin) have been ousted.
Stay tuned for more casting news. Plus, don't forget to look for Charles Shaughnessy's return on Wednesday, May 2!
"Days of Our Lives" airs weekdays on NBC.

Just saw Brant Daughtery on Days as Brian, Will's friend from the gay club.  I hope he's staying on the show as perhaps a triangle with Will and Sonny.  With the new writers, I hope they will write a great gay love story line for Will that will be even better than the Luke/Noah/Reid gay love story on As The World Turns... If they are able to make this love story believable, I believe they will have actors who can make the viewers love it!!  
   I was glad to see the actors who will be written off the show!!  IF the writers will write more story lines for the younger actors, they will find a brand new audience will watch and be faithful watchers!  Poor Melanie has been left in that locked room for way too long without more story lines to get her freed!  Days continue to change writers.  I hope this time they will have an opinion of what the viewers want... we don't want to see old story lines that were on Days many years ago. 
   I've watched Days since its Day One... A few months ago, I almost called it quits because it became so boring. Thanks, though, for bringing Lucas back -- he makes it work with Sami!!!  
Are you sure you want to delete this comment?