More 'Young and the Restless' Kids Come Home
Genoa City welcomes back teen locals -- rapidly aged, of course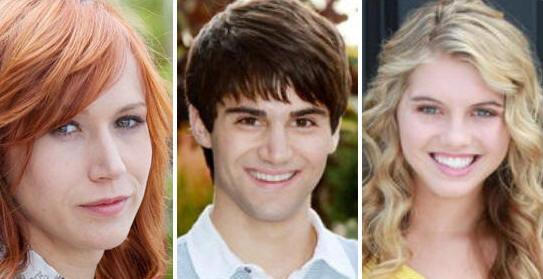 On the heels of Cricket (Lauralee Bell) and Danny's (Michael Damian) "The Young and the Restless" reunion comes the return of three young Genoa City locals who've changed a bit since we last saw them. Heather Stevens returns Thursday, June 7, with "As the World Turns" alum Jennifer Landon (ex-Gwen) assuming the role. Then Nick and Phyllis's daughter Summer (Lindsay Bushman) and Michael and Lauren's son Fen (Max Ehrich) come home as teenagers on Friday, June 8 and Monday, June 11, respectively. 
Bing: "The Young and the Restless" | Jennifer Landon | Max Ehrich | Lindsay Bushman 
Summer Newman and Fenmore "Fen" Baldwin were born on "The Young and the Restless" in 2006, but have contracted SORAS (Soap Opera Rapid Aging Syndrome). They return to town as teens, just in time for a hot summer storyline. 
With parents like Nick (Josh Morrow) and Phyllis (Michelle Stafford) and Michael (Christian LeBlanc) and Lauren (Tracey Bregman), that can only mean trouble. 
Also: Summer reality TV fare | Summer TV guide for parents

"You get what you give, right?" quipped Lindsay Bushman ("The Finder," "Ringer") in character. "Summer's feisty and pretty much a typical teenager."
"Fen's at a vulnerable age," Max Ehrich ("Ugly Betty," "High School Musical 3: Senior Year") teased. "It's an age where you're on the brink of adulthood, so you have to start taking a bit of responsibility, and your hormones start kicking in, hardcore. He's figuring himself out. He's definitely going through some stuff. I'm very curious to see where they go with it."
It's not clear whether recently SORAsed Kyle, who is a bit older, will play into storyline with the hormonal teens. But Ricky (Peter Porte), yet another SORASed Genoa City local, is sure to add to their angst. He seems to be as crazy as his mother, Isabella (Eva Longoria), was. He's digging for dirt on Phyllis, which could end up revealing a few of Michael's past machinations and maybe one or two of Lauren's. 
In other words, these two kids may learn about some of the insane things their parents have done – as fans know, that says a lot! 
Ricky's vendetta is also sure to affect his half-sister, Heather, when she is lured back to town by Michael on Thursday. "Michael offers Heather a job as Assistant D.A.," Landon sets up. "The offer is a dream come true, but she has a lot of history and isn't sure if Genoa City is a place where she can be again."
Heather has been off licking her wounds since Ricky's last attack on their father, Paul (Doug Davidson) left her exposed, literally. When she returns, fans can expect some changes to the character, who will be "more salt of the earth" and than the last time we saw her. 
"She's got some scrappiness, but there's a goodness about her, too," Landon previewed. "We also talked about showing her vulnerability more. She's a professional who, due to her history, always wants to be with her dad in some way. [That history of her father abandoning her and her stepfather abusing her mother] colors her choices in men and her capacity for vulnerability, at times."
Speaking of color, Heather will also be going through some hair drama when she gets to town. She was blonde and blue-eyed when Vail Bloom brought the character to town to reconnect with her dad and fall for Adam (Michael Muhney). Dark-haired "All My Children" fave Eden Riegel took the character for whirl next, engaging in more legal and love triangle drama. 
This time, Heather will show up as a glowing redhead, but she won't stay that way. "My hair has changed color already between episodes and will continue to change," Landon shared. "It was a dark red. In person, it looked natural, but I guess on camera it was going fluorescent. We all agreed that really wasn't the right choice for the character!"
Assuming a role is never easy, but Landon has found her groove in Genoa City. "There's a great character there," she previewed. "A strong woman, who can have some pretty good banter and an open heart." 
"The Young and the Restless" airs weekdays on CBS.