'24' Movie Still Possible For 2014
Kiefer Sutherland says production will happen sooner than later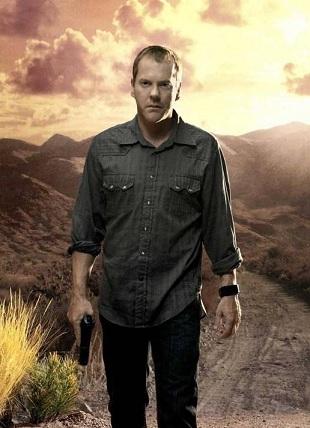 For those of you still pining for a
"Sopranos"
 flick, or who are 
less-than-enthralled​
by the notion of an
"Entourage"
movie, we have a potential compromise: the promised eventuality of a "24" cinematic adaptation. Or, more accurately, continuation of where it left off in 2010. 
At this past week's Television Critics Association conference, Kiefer Sutherland shared some updates about the long-awaited, feature-length "24" resurrection
with Crave Online.
 According to the man affectionately remembered as rogue terrorism fighter Jack Bauer,  "We didn't have a script ready for that until very close to the end of 'Touch.' We knew we were coming back, so there was a very finite window for me to make the film, to try to prep it, cast it and all of those other things. It was just unrealistic for FOX to try and make it, so they pushed it for next break." 
Meaning, once Season 2 of "Touch" is all wrapped up (which should be soonish, given it premieres on August 4), "24" is on the clock, and could possibly begin shooting by next year, leading Crave to speculate about a hopeful 2014 release. As for narratively filling the gap between its series finale and where the movie picks up, Sutherland's not worried, "because I think we can make a great film. I mean, I don't want to do it with a cane, but we'll see. We'll see what happens."
Surely, even with a cane, Jack Bauer would still be able. 
"Touch" returns Friday, Oct. 26, at 8 p.m. ET/PT on FOX. 
Well i'm happy about the update, but i thought that production on the movie had already begun, and that it would be in theaters by the end of this year, or early 2013!  I'm sure that "Touch" is the primary obstacle that's been standing in the way, and i don't particularly like that show.  I just hope that you take good care of yourself so that when it's time for Jack Bauer to "Officially Spring Back Into Action", you'll be ready.  There are billions of people all around the world who have been "Waiting Patiently" for the clock to start ticking again; Television certainly has not been the same since you left!  We love you, we miss you, and until we see you again "May The Force Be With You!

Are you sure you want to delete this comment?