'Pretty Little Liars' Talking Points: One Step Closer
A visit from the tooth fairy? Or someone far more sinister...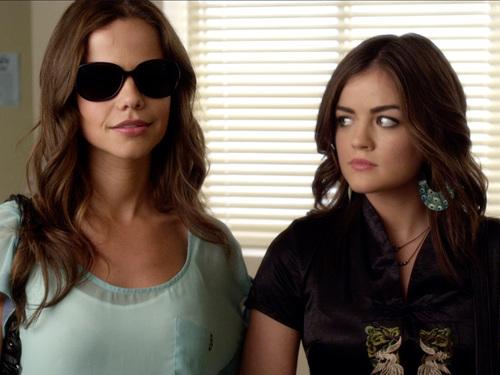 Last week on "Pretty Little Liars," Spencer found out her mom was taking on the case of bad cop Officer Garrett – even though Spencer never went to her with Garrett's request.
Bing: More on "Pretty Little Liars"
Plus, a mysterious earring – one Aria had thought belonged to her dad's evil other woman – appeared in her locker. And when she offered it up to the evil one, Meredith claimed it wasn't hers at all. But all those years ago, it was that very earring that had prompted Allison to goad Aria into trashing her dad's office – and blaming it on "bunny boiler" Meredith. When Aria confessed her past wrongdoings to her dad, he promptly started seeing Meredith again. Oh, and one last thing: Aria had dropped that earring into Allison's grave before it was sealed up. So it came from the grave-robbers. Ooops.
But the biggest reveal last week? The girls finally learned, once and for all, that blind Jenna truly could see. And she was still using it against them. Now that the girls knew, they had big plans to turn the tables.
Okay, so Emily found a freaky message necklace in her bag -- and it had actual teeth in it. Eeps. The girls accidentally flushed it down the toilet, so there's no taking that one to the cops.
This week, the girls had a run-in with Hanna's old pal Lucas, who told he his teachers were sending home a notice about his negative attitude. So he promptly set the note on fire. Hanna asked Caleb to talk to him. Caleb said he would – as long as Hanna stopped going to visit Mona in the loony bin. 
When Caleb confronted Lucas, the disgruntled one told him that the girls were headed for way bigger problems than mute Mona. 
Ella Montgomery was worried about absentminded Emily, so she fixed her English test with a 94 percent. But the girls thought maybe that was A messing with them again. But then Ella told Em in no uncertain terms that "the grade is accurate."
Mama Veronica Hastings told Spencer and Melissa (no longer pregnant, but also sans baby) that she was defending Garrett Reynolds – and she was doing it pro bono. "He convinced me of his lack of guilt as it pertains to the charges," she explained, in lawyer-speak. When Spencer balked, Melissa remained mum. "Any interest I had in this ended three months ago," she said pointedly. "Some people have lost everything. Everything." Then she said she hoped that her mom did get Garrett off, guilty or not. "He is the only one who told me the truth. I figured it out too late, but I figured it out."
Since the girls were onto Jenna, Aria told her "blind" girl she'd help her rehearse for her recital. While Jenna practiced her flute, Aria played the keyboard, but she was really silently snooping. Then Jenna asked a whole bunch of questions about Mona and Allison's grave and Emily's condition. When Jenna left the room, Aria examined a note: a date, a name, H. Cobb, and the word "earplugs." She told the girls, and Emily reiterated that she could remember Jenna driving the car.
The conversation turned to Melissa – and Hanna suggested that maybe Melissa's baby wasn't Ian's. Maybe it was Garrett's. "Okay, next stop Twilight Zone," Spencer said. But it made sense, sort of. If Garrett had shown Spencer's mom medical records, perhaps they were Melissa's, not Jenna's. And maybe that's why Spencer's mom took the case.
Aria and Ezra were hanging out, and he lamented the fact that he couldn't get a job. Then she asked him a question: "Have you ever helped out a student?" She was talking about her mom and Emily. "I could see why she'd want to help out Emily," she said. But now the vice principal wanted to talk to Ella. Later, Ezra ran into Ella at the coffee shop. She told him the office received an anonymous tip from a student about favoritism and test scores. "It's not easy to keep things separate," Ezra said. 
The day of Ella's appointment, Ezra talked to the Vice Principal – and told him he was there when Ella graded the test, since he was so eager to see how his tutee had done. Problem resolved – and they were in it together. "Some role models we are," Ezra said.
Hanna went to visit Mona at the loony bin again, and discovered that she'd been faking the mute thing the whole time. Or they changed her meds. That's what she told Hanna, anyway. "Even when I was quiet, I knew you were here," Mona said. "It helped. Honest." But Hanna wasn't buying her bull. "We thought you being in here was the end of it," Hanna said. "What do you know?" So Mona asked: "Did they ever find what's left of Allison?" 
Leaving, Hanna spied another visitor: Lucas. When she walked out, Caleb was waiting. He was pissed. But Hanna insisted that the old Mona was there, not the one who hit her with the car. That was the part Caleb didn't know yet. "You wanna know the truth, well, here it is: boom. It's like a big bowl of spaghetti. It's all tangled. Have you ever untangled spaghetti?" That's when Lucas came out. "I have a lot of emotionally disturbed friends," he said. "I'm trying to see if she's really mental. It's better for a lot of people that Mona stays crazy, right?"
While Hanna and Ezra staked out Jenna's appointment with H. Cobb, Spencer called for Melissa's medical records. But the facility had no records of a Melissa Hastings. She then asked for records under Thomas. Nada. But she didn't ask for Reynolds. Then she called the hotel Melissa stayed at, and she learned that both her mother and sister hadn't checked out till three days after the reported miscarriage. 
Meanwhile, the girls watched a fake-blind Jenna get into a cab, and booked it. But then they saw her driving a blue convertible. She parked in front of a guns and ammo store. When Jenna came back out and climbed into the car, Hanna, sick of it all, jumped in front of. "Hi Jenna," she said. "Aren't you a sight for sore eyes?" 
Back at the loony bin, no-longer-mute Mona had another visitor – Caleb. "Get this straight," he told her, "do not mess with Hanna. You're laughing at all of us in there, in your head, aren't you. But here's the real joke. I get to walk out that door. But you, you're not going anywhere." That's when Mona flipped out. 
All the girls confronted Jenna – and she looked great, in a green top that really brought out her eyes. But she confessed that she could see right from the first operation, but it was safer for them not to know. "If people think you're blind, they get careless." So what about the night Alli's grave was robbed? "Dead of night, edge of town, Emily was there. I almost hit her," Jenna said. "You were drunk and crying, talking about Maya. I couldn't just leave you there." But then Emily freaked out and jumped out of the car. She asked the girls to promise not to tell. "I'm still a target." From who? "If I knew that, I wouldn't have to hide." 
Emily confronted Ezra about the whole test mess. "I hate to sound ungrateful, but I am really getting tired of everyone treating me as if I was made out of glass," she said. So he gave her another test. "Pass it now." 
When Spencer came home, Veronica Hastings was poring over Garrett's case. So Spencer told her what she found out. "She went up there looking pregnant and you brought her down not pregnant," Spencer spat. "She was faking." 

Gah! So much new information. And yet, so little new information. How can Jenna not be involved? What's with the fake pregnancy? And are we gonna see more of those freaky teeth necklaces? Sneak peek:
Stay tuned!

"Pretty Little Liars" airs Tuesdays at 8 p.m. ET/PT on ABC Family.