Alexis Bellino Checks In to 'General Hospital'
'Real Housewives of Orange County' star dishes on her soap opera debut and more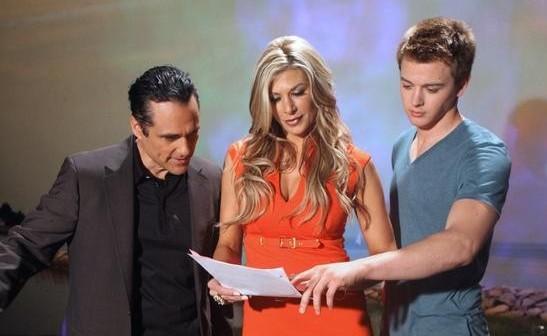 Alexis Bellino checks in to "General Hospital" Wednesday, May 9, but she doesn't need a doctor. The "Real Housewives from Orange County" star will slip behind an anchor's desk to drop breaking news on Port Charles locals.
Bing: More about 'General Hospital' | Alexis Bellino | 'Real Housewives of Orange County'
Bellino talked to MSN TV about her soap opera cameo, the ups and downs of being part of Bravo's "Housewives" franchise and which daytime vet gave her a new perspective on things. 
Also: Reality stars who've made good

MSN TV: How was your "General Hospital" experience?
Alexis Bellino: I cannot even put it into words. First of all, I had no idea going on set that the studio would be so huge! It's an actual hospital. It was amazing and breathtaking. I was nervous, but it was an excited nervous. I had a great time.

How did you like playing anchorwoman?

I had a little news desk and the backdrop for a news counter. It was fun. I've been a Fox 5 San Diego lifestyle correspondent for awhile. I never sit at a desk, per say, but it felt like that. Only I knew I was acting! It was surreal. I got nervous and a little choked up the first take, but the second time I nailed it.
Can you tell us what news you're reporting?


I don't want to give too much away, but I get to break headline news about a local mishap. It's shocking for Port Charles, and it's a pretty big deal. Everyone's jaws are going to drop.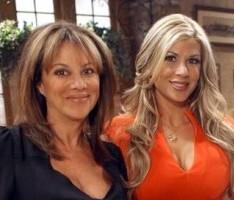 Did you get to work with any castmembers?


Alexis (Nancy Lee Grahn) and Spinelli (Bradford Anderson) are the other two characters in my scene, watching my news cast. I also met Kelly Monaco (Sam), Maurice Benard (Sonny), Chad Duell (Michael) and a couple others. 
Any onset "Real Housewives" fans?

Nancy and Kelly. I didn't realize Kelly was until she tweeted me later, but Nancy and I had a long conversation about "Housewives." She had some really good advice for me, being at the level she is. It was refreshing. I left there like, "Wow that's a really good outlook. I'm going to take that with me." She totally inspired me.
I was just reading you husband's 'Keepin it Real' blog: How do you adjust to the "Real Housewives of Orange County" experience, where things aren't always represented the way you feel they happened? 


I knew when I signed on the dotted line that I'd pretty much turned my life over to them. I've had to come to a resolution, internally, that it may not [reflect] what my husband and I feel our relationship is. And if you watched my Fox 5 segment, they completely spoofed it. My real segments look nothing like what they aired. I came to understand that's just the role I am on the show, and so be it. I have fun with it.
You never get frustrated or angry?

Of course. Like any career, there's times I'm frustrated, but you have to take the good with the bad. All and all, I love what I do. I do have fun with these women, even though they like to beat me up. I put a positive spin on everything. I know my goal and keep my eye on my prize, and that's it.
What is the biggest misconception about you that stems from your show?


It depends what season it is, but this year they're trying to play me as the [idiot.] Tamra and Heather are just going to town saying, "She might be stupid," and "She's an idiot." It's the furthest thing from the truth, but I'm not going to call them names back. That's not how I handle situations like that. Let them curse me and I'm going to bless them. It may not be the same in my mind, sometimes, but it's what I project. I am a mom and want to be a positive role model to my children, so I go that avenue.
Did you know this trash talking was going on before it aired?

No clue. Heather is sitting there, acting like she's my friend. Nice as can be to my face. Then every single episode I watched, she's berating me and talking bad about me. It's an icky phenomenon. You're stunned.
Do you miss your anonymity, let alone having control over your own persona? Or do you enjoy the craziness?

I think I like the craziness, because even when I wasn't on this television show, we still... I have that personality were I need a lot of chaos going on around me. Like Pigpen in "The Peanuts." I like fast-paced. I like being busy and constantly productive. If I have a lot of downtime, I feel bored.
The only thing I really do miss is going to the gas station with my hair in a ponytail. You always see someone who catches you, even if you're in shades and a hat. I miss those days you could just run in and run out, without talking to anyone or being noticed. But, again, you have to take the good with the bad. At my point in my career, because of everything occurring in my life, the good is definitely outweighing the bad.
Was acting on "General Hospital" a nice change of pace?

Yes. I loved it. The thing I like most about being on set was seeing these women and men performing their roles, and when they stepped away from the cameras, they're back to being who they really are. If you play a villain on the show, you're not really a villain and America knows that. You're acting. It was also fun to know that when I walked away from the desk, it was going to be portrayed just as it was filmed.
Might the good anchor return for another breaking story?
I don't know if he was joking, but the director said all the women in the back were saying I should be the permanent news anchor. I said, "Absolutely! I put an application in with you guys." I was so blessed for this experience and I hope I have another one.
"General Hospital" airs weekdays on ABC. "The Real Housewives of Orange County" airs Tuesdays at 9 p.m. ET/PT on Bravo.
Are you sure you want to delete this comment?