D is for divorce on 'Sesame Street'
After 44 seasons, PBS kids series finally tackles subject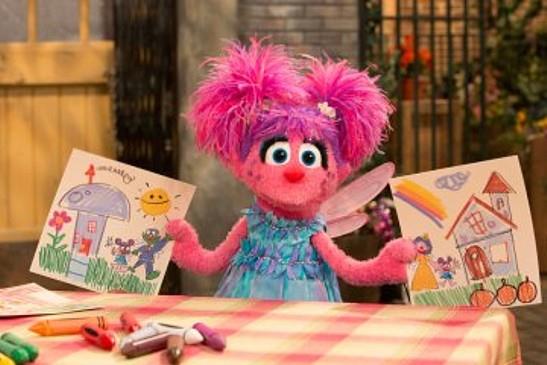 In 44 seasons, "Sesame Street" has tackled touchy subjects including race, adoption, pregnancy, incarceration and death. However, according to Time, not until this week has it ever even mentioned divorce. It turns out Abby Cadabby, the popular pink fairy-in-training, has parents that split a while back.
Bing: More about 'Sesame Street'
"This is a picture of my house," Abby says. "And this is a picture of my other house."
Elmo and Rosita are confused, so Gordon explains: "Divorce means that Abby's mommy and daddy aren't married anymore." The piece ends in a duet between Gordon and Abby in which they repeat: "They live in different places, but they both love me."
 
Plus: 10 cliched TV character habits | 2012 holiday guide | 2012's most memorable TV moments

Technically, "Sesame Street" still hasn't tackled divorce. This 13-minute segment won't appear on the air -- only online and as part of a new multimedia kit called "Little Children, Big Challenges: Divorce," which includes a storybook, a parental guide and an app.
Check out the clip:
You would think such a progressive series would have first broke this touchy ice back in the '70s, when divorce first became commonplace. But, surprisingly, it wasn't until 1992 that "Sesame Street" even tried. According to Time, it assigned Mr. Snuffleupagus the dirty deed. Through tears, the mammoth-like blue creature told Big Bird: "My dad is moving out of our cave!"
The piece was killed, however, for testing horribly. Some children didn't know where Snuffy would live. Others thought his parents didn't love him and worried their own parents would divorce.
"Sesame Street" routinely pre-screens its segments not only for kids, but for dozens of experts, researchers and psychologists.
The new segment works where the old one failed, according to Time, because divorce is addressed in the past tense -- as something Abby has learned to accept, rather than something distressing Snuffy in the present. Also, theoretically, since it's not on TV, only children of divorced parents will get to see it.
"Sesame Street" airs on PBS. Check your local listings.

This article is lacking "proper research"….. Sesame Street has a clip with a bird singing flying back and from one tree to the other about his mum lives here and my dad lives over there but they both love me….. I remember it clearly when it aired because as a child, I remember asking my parents what the bird was singing about and they had  to explain what Divorce was to me….. Sesame Street have had these subliminal mini clips of various topics over the years….. I'm guessing they left it open for parents to explain them to their children.
Are you sure you want to delete this comment?