'Modern Family' News: Gloria's Baby, Cam's Job and More
ABC comedy's honchos reveal Season 4 plans for Emmy darling series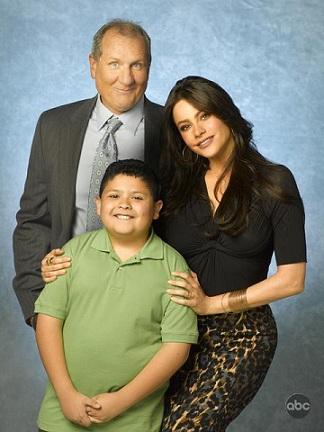 As "Modern Family" creators Steve Levitan and Christopher Lloyd make room on their shelves for more Emmys, the eccentric L.A. clan they created is anticipating its own new arrival.
Season 3 of the now-perennial ABC hit wrapped with the news that Gloria (Sofia Vergara) and Jay (
Ed O'Neill
) were expecting another child. And according to Levitan and Lloyd's
recent interview with TV Line
, that storyline will have significant impact on every
Pritchett/Dunphy/Tuc​ker/Delgado.
"This year's premiere is kind of picking up right where we left off, with Gloria's announcement to the audience that she's pregnant," says Levitan. "And in our premiere, everyone else finds out. Everybody, as you can imagine, has big reactions to this news, and the whole episode is about that."
As would be the case with most families, it apparently results in jealousy and insecurity, at least at the outset. "Gloria, for example, is gaining weight but not wanting to change any of her outfits, which is funny," offers Lloyd. "Jay is caught up dealing with some anxiety about being a dad again, when thought he was done with that 30 years ago. But also, Mitch and Cam worked really hard to try and get a baby last year, and now these other people who weren't really trying did. And Claire, whose family is getting smaller because Haley's gone off to college, is a little bit jealous of Gloria getting to be a mom again."
The pair adds that Haley, while indeed away at school, will still be present in most episodes, and that Cam spreads his wings and accepts work as a teacher. They also tease that viewers can expect another especially hysterical Halloween episode. Unless, of course, everyone finds out that it was just a pumpkin under Gloria's blouse. 
"Modern Family" Season 4 premieres this fall on ABC.
Are you sure you want to delete this comment?