'True Blood' Talking Points: All Hail Chris Meloni
The Authority always wins indeed!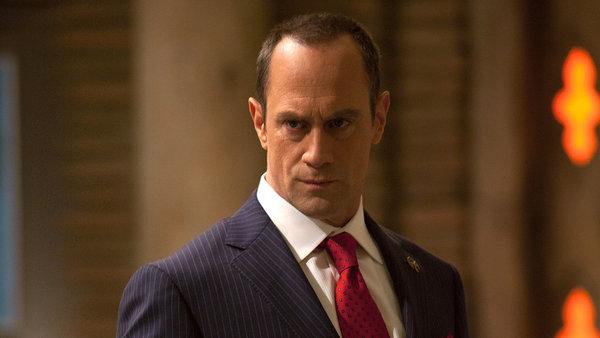 Haven't checked out the DVR yet? Before you hit the water cooler, here are 10 things you need to know about this week's "True Blood."

Bing: More on "True Blood" | Also: Summer reality TV fare | TV's top dads
When we left Bon Temps last week, Pam had turned Tara into a vampire – at Sookie's request of course. But now the badass BFF was hangry. And Pam, bored, bailed on the mission, so Tara was Sookie and Lafayette's problem. They couoldn't get her to drink the True Blood they had in the cabinet, and soon the sun would be up. They got her down to sleep, but while Sookie went to get supplies, Lafayette had second thoughts – and nearly staked his cousin. But Sookie showed up just in time. "Tara is in there," she told him. "You have to have faith. Please, give her a chance." When night fell and Tara awoke, she said: "I will never forgive either of you." Then she made a run for it.
Bill, Eric and his, uh, sister Nora had been taken into custody by the Authority. And boy, were they mad! They tossed them all into cages and exposed them to UV rays. Ouch!
Later, Authority leader Peter came to speak to Bill. He asked why Nora helped them. He asked him to swear on "the original testament," the vampire bible. "We were created in God's image," Peter said, "not humans." He asked Bill if he believed, if he was one of the Sanguinistas. Bill said he was not. He asked him again. When Bill said no, he pumped sliver right into his veins. In Eric's cage, Peter's female counterpart, Salome, spoke with him, informing him that Nora had already met the True Death. She then asked who killed Nan Flanigan. He refused to respond, for which he got a shot of silver to his veins.
Alcide and Sam watched as Marcus's pack devoured his remains in some sick mourning ritual. Alcide wanted to walk away, but Marcus's mother Martha insisted a) he eat and b) he be the new pack master. Alcide was not interested. Luna took Sam back to her place, where Martha showed up asking to see her granddaughter. "What happens when Emma turns? She'll need a pack." Luna said hell no. She wasn't turning her kid into a cannibal.
Arlene awoke to Terry Bellefleur hovering over her in a dream-state. "We're all going to die," he said. "It's coming for us." Later, at Merlotte's, he shoved her clear cross the kitchen. So she went to go see his old friend Patrick. "He cries out in his sleep," she told him. "It sounds like war talk." That's when Terry showed up. Apparently, one of their troop mates was a psychopathic killer – and perhaps he was the one who'd been setting all the fires.
At Fangastia, Pam flashed back to 1905, when Eric turned her. She was running a brothel, where she was "no stranger to dead bodies." But when was nearly attacked by a ripper type, Eric saved her, then disappeared.
On their rounds, Sheriff Bellefleur told Jason Stackhouse that he had sex – and now the chick was blowing them off. Jason told him he must be doing something right. They came across an abandoned vehicle – Debbie Pelt's. And in it, Bellefleur found some V. He was tempted to pocket it, but he handed it over to Jason.
Later, at the station, Jason watched Steve Newell expound on TV about how vampires just wanted coexist with humans and all this other BS. Then a kid showed up wanting to beat him down. He said Jason slept with his mom – Sharon Singer – and now his parents were getting a divorce. Jason went to go talk to Hoyt. He still wanted to make amends. But Hoyt told him to get out.
Jessica was having another one of her keggers at Bill's house when Steve Newlin showed up. He said he'd give her $10000 in cash – for Jason. She asked for $20K. And she would have got it. But hen she said, "look at you, fang boner and real boner," she said. "You are pathetic. I do not sell my friends."
Bill and Eric – and Nora, too – were led to a room where they witnessed a blood ceremony pledging fealty to Lilith, the first vampire. Roman – played by Chris Meloni – told them he was the Authority. He told them any threat to mainstreaming was a threat to them – and fundamentalism was a dead end. He was about to pronounce a sentence, when Bill offered a concession: "our lives in exchange for Russell Edgington's. Russell wants nothing more than anarchy."

In the end, cut to a creepy, blood and scab-covered Russell -- down but not out, and no doubt ready for the challenge. 
"True Blood" airs Sundays at 9 p.m. ET/PT on HBO.