Louis C.K. rocks 'Saturday Night Live'
Stand-up act and Lincoln are comedian's best weapons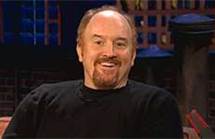 Louis C.K. is at his best when he's doing stand up.  
So it's no surprise that when he hosted "Saturday Night Live" for the first time Saturday, he killed with his stand-up routine.
Bing: More on 'Saturday Night Live'  |  Louis C.K.
First, the 45-year-old New Yorker opened the show with jokes about getting power back after Hurricane Sandy and then he told an awkwardly hilarious story about being stranded in the airport and helping an elderly lady.
Plus: Co-workers and workplaces we wish we had | Shows that should be canceled
"I connect with old ladies, they're my favorite demographic," the Emmy-winning writer said. "I wish I desired them, sexually."
This is something C.K. would've said and done on his hit FX show, "Louie," but that's not coming back until 2014, so it was great to hear it in the here and now. The bit also seemed to take the pressure off a city that's still recovering from a devastating storm. Check it out:
Later, C.K. once again reminded us why he is one of the best comedians on TV and why his uncomfortable interactions are so priceless with "Lincoln." Not only was the bit timely -- Steven Spielberg's flick on the beloved president hits theaters next week -- but it parodied C.K.'s show and the movie by having honest Abe perform stand up.
With so many solid sketches, C.K. is arguably the best host this season. What do you think?
"Saturday Night Live" airs Saturdays at 11:35 p.m. ET/PT on NBC.
Are you sure you want to delete this comment?