Look who's talking in daytime: Nov. 12 to Nov. 16
Thanksgiving prep, holiday previews and 'Liz and Dick'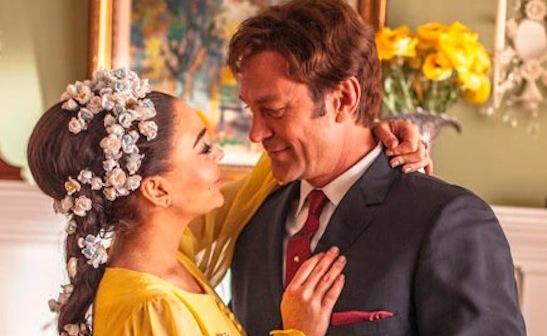 Thanksgiving tips and tricks are already heating up in daytime the week of Nov. 12, along with big-screen stars Robert DeNiro, Bradley Cooper and Chris Tucker ("Silver Linings Playbook"); Sally Field and James Spader ("Lincoln"); Keira Knightley ("Anna Karenina"); Kellan Lutz, Ashley Greene and Noel Fisher ("The Twilight Saga: Breaking Dawn – Part 2") and Nadine Velazquez ("Flight"). Prime-timers are talking "Nashville," "Blue Bloods," "Greys Anatomy," "Revolution," "Last Resort," "New Girl," "Whitney," "The Voice," "The Real Housewives of Beverly Hills," "America's Next Top Model," "Undercover Boss," "Animal Intervention," "Hardcore Pawn," "Extra Virgin," "Extreme Couponing," and "Man Caves." Linday Lohan isn't on the schedule, but Grant Bowler will be talking "Liz and Dick" and working with the controversial actress. Maroon 5, Toby Keith, the Backstreet Boys, One Direction, Jason Aldean, Bridgit Mendler, Susan Boyle and Blue Man Group perform.
 Bing: More on "Liz and Dick" | Willie Geist
Other notables coming to daytime include Judge Judy, Carrie Fisher, Rob Reiner, Dr. Sanjay Gupta, John Edward, Newt Gingrich and Sally Field. Plus, Willie Geist officially joins the "Today" team as anchor this week; while Snooki, Kelly Osbourne, Andy Cohen and Jay Mohr play guest co-host elsewhere. 
Plus: Past shows that should return | Shows that should be canceled
Schedules are subject to change.
"Anderson"
Mon: Co-host Kelly Osbourne; Kandi Burruss
Tue: Co-host Jane Velez-Mitchell; Nick Cannon
Wed: Co-host Andy Cohen; Adam Levine               
Thurs: Co-host Nicole 'Snooki' Polizzi; Thomas "The Pregnant Man" Beatie
Fri: Co-host Cynee Simpson; "Extreme Couponing" stars
"Ellen"
Mon: Adam Levine, Jennifer Hudson; Maroon 5 performs
Tue: Andrew Garfield, Alison Eastwood and Donald Schultz; Ne-Yo performs
Wed: Rihann; Blue Man Group performs
Thurs: Keira Knightley; One Direction performs
Fri: Jason Aldean performs
"Good Morning America"
Mon: Jake Tapper, Marissa Jaret Winkour, Rachael Ray, Les and Ashley Gold 
Tue: Sally Field ("Lincoln"); an anchor gets punk'd; "The Lion King" performance
Wed: James Spader, chef Emeril Lagasse; eliminated "Dancing with the Stars" couple; Bridgit Mendler performs                            
Thurs: Broadway's "Spiderman" cast; iLuminate performs
Fri: Buddy Valastro
"Jeff Probst Show"
Mon: TBA
Tue: TBA
Wed: TBA                               
Thurs: TBA
Fri: TBA
"Katie"
Mon: Judge Judy
Tue: Michael Morton, exonerated after 25 years in prison
Wed: Dr. Sanjay Gupta                                     
Thurs: TBA
Fri: John Edward, Sally Field
"Live! With Kelly and Michael"
Mon: Robert DeNiro "Silver Linings Playbook," Isla Fisher; House DJ Connor Cruise
Tue: Bradley Cooper
Wed: Hayden Panetierre, Kellan Lutz
Thurs: Chris Tucker, Ashley Greene; Bridgit Mendler performs
Fri: Zooey Deschanel, Jason Cameron and Tony Siragusa
"Marie"
Mon: Vicki Lawrence and Tim Conway. Women's Automotive Connection founder Gail Dunn, Noel Fisher
Tue: (repeat) Christian LeBlanc, Candace Cameron Bure; Danielle Peck performs
Wed: Marilu Henner, David Hoffman, Donny Osmond chats and performs with his sister
Thurs: Lacey Chabert, Chef Sasha Perl-Raver, Nadine Velazquez, plastic surgeon Dr. Gary Motykie
Fri: (repeat) Mary Murphy; Dianne Burnett, Mark Burnett's ex-wife
"Rachael Ray Show"
* Thanksgiving prep week *
Mon: Carla Hall, New York City firemen
Tue: Rachael's husband John
Wed: Whitney Cummings                              
Thurs: Andre Braugher
Fri: Gretta Monahan
"Ricki Lake"
Mon: Ambush makeovers
Tue: Dr. Drew
Wed: plastic surgery explored                                
Thurs: Judge Lynn Toler and Dr. Mike Dow
Fri: TBA
"The Talk"
Mon: Donnie Wahlberg; Katherine Kallinis Berman and Sophie Kallinis LaMontagne
Tue: Carrie Fisher; Toby Keith performs 
Wed: Backstreet Boys A.J. McLean, Howie Dorough, Nick Carter, Kevin Richardson and Brian Littrell perform                   
Thurs: Chandra Wilson, magician Jason Latimer
Fri: Rob Reiner; President of Cinnabon Kat Cole
"Today"
Mon: Newt Gingrich, Whitney Cummings, Robert DeNiro, Nick Cannon, Chelsea Handler, Curtis Stone; Susan Boyle performs live
Tue: Bradley Cooper, Vanilla Ice ; One Direction performs 
Wed: Chris Tucker, Jeremy Renner, Adam Rappaport, People's Sexiest man, Mackenzie Foy; One Direction performs 
Thurs: Dr. Phil, The RocketteS, Carson Daly, Giancarlo Esposito, the Scotto family, Ashley Greene. Danica McKellar
Fri: Lauren Scruggs, Michael Jackson auction, Kellan Lutz, Todd Eldredge  
"The View"
* "How Funny Are You?" contest returns
Mon: Newt and Callista Gingrich, Jake Tapper, Lisa Ling
Tue: Rachael Ray
Wed: James Spader                         
Thurs: Dr. Phil; eliminated "Dancing with the Stars" couple performs
Fri: Co-host Jay Mohr; Sally Field, Oliver Stone; Susan Boyle performs
 "The Wendy Williams Show"
* "Wendy's Next Great Voice" singing competition begins 
Mon: Chef Guy Fieri
Tue: Debi Mazar and her husband Gabriele Corcos, Brandi Glanville
Wed: Grant Bowler
Thurs: no celebs on the docket
Fri: Tyra Banks