Will Rider Strong star in 'Boy Meets World' reboot?
Actor who played bad-boy best friend not onboard -- yet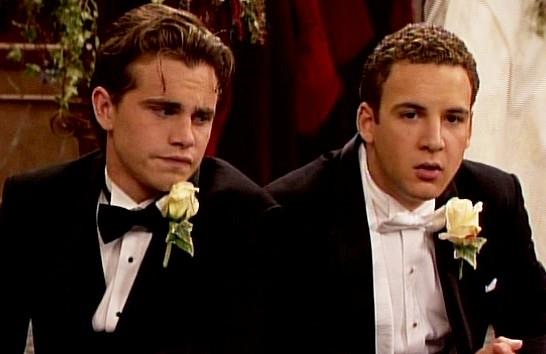 Now that Ben Savage and Danielle Fishel have agreed to reprise their "Boy Meets World" characters in a new Disney Channel reboot, the question is whether Rider Strong is along for the ride. "Girl Meets World" will join Cory Matthews and Topanga Lawrence 12 years after we left them, focusing primarily on their 13-year-old daughter, Riley.

Bing: More about 'Boys Meets World' | 'Girls Meets World'

Strong -- who played Shawn Hunter, Cory's trailer-park-trouble​maker best friend -- released a statement to the press saying: "At this point, I have no official involvement." However, it added that "there might be a chance to see some of the BMW cast in a guest spot."


This either means that producers can't see Strong back in a regular role, or that they can but don't want to meet his salary demands. Either way, negotiations for a cameo are apparently ongoing. (That's what the "at this point" usually means.)


According to the Huffington Post, Riley will have already have her own edgy best friend. And Cory may be too respectable for one. (He'll morph into the Mr. Feeny role, serving as a history teacher.)

Plus: Canceled or renewed? | Celebrities playing celebrities
Fans both of the original series and of logic will notice inconsistencies. (For instance, how can Riley be 13 if Topanga wasn't even pregnant with her when the series ended 12 years ago? In addition, in a flash-forward from the seventh and final "Boy Meets World" season, Cory and Topanga had a baby girl, named Beverly Glen, in 2006.) However, can there really be that many fans both of the original series and of logic?


According to Entertainment Weekly, neither Will Friedle (who played Eric Matthews) nor William Daniels (Mr. Feeny) would comment about whether they are involved in the reboot.


Would you like to see Strong reprise his Shawn role on the new series?


"Girl Meets World" is expected to premiere in 2013 on the Disney Channel.

The flash forward wasn't in the series finale; it was an earlier episode.  The episode focused on what would happen to the group if they let Rachel cut her ties with them after a prank war gone wrong.  They flashed forward into the future, and we saw that none of the gang had spoken for years. Eric became a weirdo who called himself "Plays with Squirrels," Cory and Topanga had Beverly Glen, etc.  However, at the end of the episode it went back to "normal" time, and the gang resolved the prank war.  They stayed friends, thus changing their future. 
Are you sure you want to delete this comment?