'True Blood' Talking Points: Faerie Dusted
10 major 'True Blood' plot points you need to know to get by at the water cooler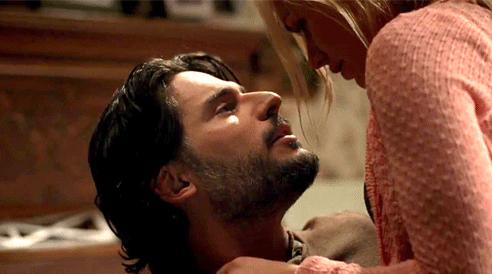 Hook-ups, heartache and plenty of drama this week on "True Blood," as the case was closed on Debbie Pelt's murder -- and some major faerie fun led to a host of new questions. Meanwhile, Bill and Eric were still hunting down the traitor who released Russell Edgington -- and caught their old love Sookie in the (very well-muscled) arms of another. 

Bing: More on "True Blood" 
Furious with Sookie for killing his fiancé Debbie, Alcide took off. Lafayette reamed her out for telling the werewolf the truth. "Oh yeah, baby, you survive, you always do, but goddamnyou leave a trail of bodies behind," Lafayette informed her. "You're the f---ing angel of death." Upset, Sookie ran off to confess to her brother Jason that she killed Debbie and asked him to arrest her. But he refused. Then she told Jason that she had Pam turn a dying Tara into a vampire. "I told you, I ruin people's lives."
Tara tried killing herself at Curl Up And Fry, but Pam showed up and ordered her, as her maker, to never try that again. She took her back to Fangtasia, which was locked up tight. Inside: Eric and Bill. "Congratulations, you're a grandfather," she told Eric. He asked Pam if she was the one who set Russell free. Of course not. "If I mean so little to you, then why keep me around?" She told him to release her. "Just say the words, 'As your maker, I release you.'" Later, he told her that his new lot was a suicide mission. "Either Russell will have our heads, or the Authority will. The end will come soon, and I can't have you there." And so, he released her. "You are my one legacy. I need you to live when I'm gone."
Meanwhile, Bill and Tara chatted about Sookie and the save-her impulse. "She's always safe, there will always be some fool willing to take a bullet for her." Later, Pam trained Tara on the pleasures of drinking blood, assuring Eric's own bloodline would continue to thrive at the top of the food chain.
Regrouping, Bill and Eric eliminated Pam, Tara and Jessica as suspects. They didn't realize, though, that they were being watched by the Authority's council. At Bill's house, he and Jessica rifled through, looking for a bug. Nada. Jessica suggested Bill go see Sookie – that she could use a bit of a lift. 
At Merlotte's, the shifters Sam and Luna ran with last season showed up, inviting Sam to another outing. But that night, when Sam got to the party, he found his pals shot through the head. 
Terry Bellefleur flashback: he and Patrick were in Afghanistan, getting drunk with their troop in the tower of the mosque on the fourth of July. One trooper, standing guard, shot a civilian and a dozen more appeared to protest – only to be gunned down by the others. Back to reality: hunting down their old pal, they found the arsonist's lair. And the arsonist, of course.
Alcide went to Debbie's parents to tell them that she'd been murdered – by their former pack leader Marcus, whom he then killed with his own two hands. When they called Andy Bellefleur to say they've got what they needed, he insisted on digging further – and told Jason all about it. But then Jessica showed up, glamoured the sergeant and told him to forget all about Debbie Pelt. 
During her shift at Merlotte's, Sookie was overwhelmed by reading the judgments of her patrons and escaped outside. Lafayette, meanwhile, was fighting his own demons. Literally. The one that had possessed Jesus still had him – and he scratched up Sookie's little yellow car. Then, when Sookie was driving it, it came to life, pushing the pedal to the medal and crashing. Home, Sookie drowned her sorrows in half-a-dozen bottles of SoCo. Lafayette called, telling her that he found the car – wrapped around a tree. He said he was on his way. But Alcide got there first. He told her she was saved, again. She made him an awful drink called an orange marzipan, and then told him to drink. "You'll do anything for me," she said. "You're in love with me!" Cue hook-up, with Bill and Eric spying from the window.
Roman and Salome continued to torture Sanguinista Nora, but she wasn't spilling. So they came up with a plan: they'd go talk to her themselves – and show her that nifty iPhone app that would trigger the iStakes the guys were outfitted with, serving up instant True Death! So she confessed. Later, Roman informed the other chancellors that their quarters were being searched. "Treachery. Sedition under this roof," Roman said. It was Chancellor Drew – the kid. A viral video with subliminal messages conveying solidarity with known enemies of the Authority. So Roman staked him. "No more rebellions," he told the rest. "You will fall in line. Am I understood?"
Andy sure forgot about Debbie, because the judge took Andy and Jason out on the town – limos, hot girls and blindfolds. The ladies took them to some kind of burlesque-inspired fairy strip club – complete with pasties. There, Andy ran into his fairy conquest, Morela. Jason was reluctantly getting it on with the girl when he saw his cousin Hadley. She was surprised that Sookie was alive – and said they had to go get her, so she wasn't killed by the vampires, like his parents. Wait, Jason said, weren't his parents killed in a flood? That's when she clammed up. And when he tried to follow her, the faeries kicked Jason and Andy out – and then zapped them with their faerie light. 

 "True Blood" airs Sundays at 9 p.m. ET/PT on HBO.