Brian Baumgartner locks ABC pilot with Greg Daniels
Kevin Malone is fourth 'Office' worker with project on fall slate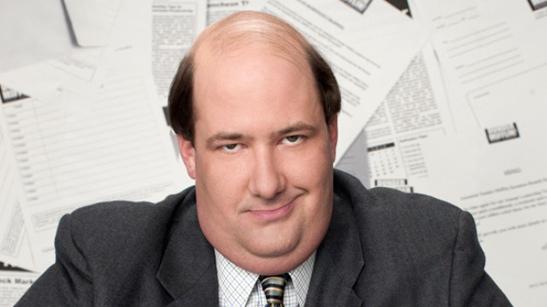 Worried about missing your favorite "Office" stars when the show wraps up its ninth and final season this spring? Don't be. They'll be all over the small screen this fall. 

This morning,
Deadline
announced that "The Office" creator Greg Daniels has locked an ABC pilot with "Office" star Brian Baumgartner -- whom you'll recognize as dimwitted accountant Kevin Malone. 
And he's not the only one who's sealed a deal in recent weeks. Baumgartner's pilot marks the fourth such show announced as the fall slate falls into place. Given the success of Mindy Kaling's breakout comedy "The Mindy Project," perhaps the nets are smart to hedge their bets with these tried-and-true comedy vets. 
Baumgartner's still-untitled single-camera comedy half-hour, written by "Parks And Recreation" supervising producer Harry Wittels and executive-produced by Daniels, should mark a decidedly different turn for the actor, who'll play a mid-level airline executive stuck in a downward spiral, along with his industry. 
"Office" showrunner Daniels will also be producing an NBC comedy written by "Office" writer Owen Ellickson and starring
"Office" mate Craig Robinson
, who plays Darryl, as a struggling musician who takes a job as a middle school music teacher. 
NBC has already locked a potential "Office" spin-off starring Rainn Wilson, called "The Farm" for fall. The show would focus on Wilson's "Office" character, Dwight, as he returns to the Schrute family estate and deals with his nutty clan. 
"We shot the 5th 'Office' episode as a pilot for 'The Farm,'" Wilson revealed on Reddit last week,
according to Variety
. "Because of a death in the family, we meet Dwight's brother and sister and uncle, as well as Mose's brother, Zeke. It will air as a stand-alone episode of 'The Office' this winter. NBC has it right now, is going to test it with audiences, and will decide whether or not to pick it up." The spin-off, Wilson adds, is "weird and yet accessible. It's a rural family comedy! Geese and goes and Schrutes and hijinx at the bed and breakfast!"
Last but not least, Angela Kinsey, who plays uptight blonde accountant Angela, will star in a
FOX comedy pilot for "Dirty Blondes,"
penned by "Glee" producer Stacy Traub. The show will fictionalize the real-life friendship between Kinsey and Rachael Harris, from "Hangover," as two thirty-something women grow closer after their respective divorces.
"The Office" airs Thursdays at 9 p.m. ET/PT on NBC.