'Bored to Death' brought back to life
Cult HBO comedy to be resurrected as TV movie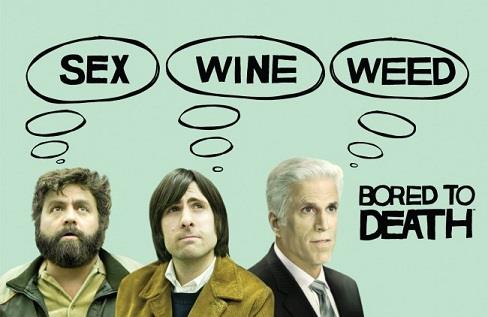 There's so much morbid news in the world. Hell, even television generates its share of sad developments, particularly by way of premature cancellations. But Wednesday morning is a joyous one for fans of goofy, witty slapstick comedy. 
Deadline
has reported, and
Entertainment Weekly
 has confirmed, that HBO has given the go-ahead for "Bored to Death" film that would air on the network. This should come as tremendous consolation to the series' loyal fans, who were left with a seismic crater in their lives where laughter used to be upon its demise in 2011. 
Plus: Ugliest designs on 'Project Runway' | 15 actors to Kevin Bacon | Births on TV
Creator Jonathan Ames will write and executive produce, and its magnanimous starring trinity of Jason Schwartzman, Ted Danson and Zach Galifianakis are all expected to resuscitate their daffy alter egos. No real word yet on air date or plot details, but its established episodic motif of solving off-the-books private-dick cases while intoxicated and/or lovelorn should translate well to feature length. 
And for the uninitiated, now's your chance to catch up on the action-packed, oddly genteel hilarity.