Oprah Winfrey visits 'Steve Harvey'
Former daytime queen talks Chicago, OWN and her 'breasteses'
Oprah Winfrey will be back in daytime in late April. The icon surprised the "Steve Harvey" audience when she showed up for a taping Tuesday, March 12, and then sat down to talk Chicago, daytime, OWN and Terrence Howard's recent comment about her "breasteses."
Bing: More about Steve Harvey | Oprah Winfrey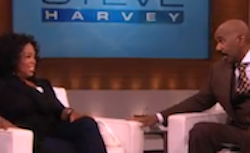 "Oprah introduced me to a whole new audience when she had me on her talk show years ago," Harvey said. "So to now have her as a guest on my own show, in my first season, is a dream come true."
During the frank and funny sit-down, Winfrey broke her silence about her love scene with Terrence Howard in the upcoming film "The Butler."
"It was supposed to be a little scene," said Winfrey. "Because Terrence Howard misbehaved, it turned into a bigger scene. And then a bigger scene. He is a misbehaving kind of boy. I heard him … he was on Twitter the other day talking about my breasteses!"
Plus: Our favorite 'DWTS' pros | Pluck of the Irish | TV girls we totally relate to

Howard's comments were complimentary, but some people balked at the fact that he referred to the icon's breasts as "tig ol' bitties." Harvey even told Winfrey he'd reprimanding Howard for talking out of school about her and warned Howard that she had the money and power to take down his next movie, but Winfrey laughed that she wasn't offended.
"Ya know what, some people called me saying they were all offended by it," she said. "I go, 'Well, I do have big breasteses.'"
During the sit-down, which airs April 26, Winfrey and Harvey's chat also covered their love of Chicago, what Winfrey misses most about hosting her own talk show in the Windy City, the secret tips she's shared with Harvey and what she has planned for OWN. Harvey also provided Winfrey with an "A-ha! moment."
"Steve Harvey" airs weekdays in syndication.
Are you sure you want to delete this comment?