Helen Hunt to direct an episode of 'Revenge'
'Mad About You' star's installment airs March 10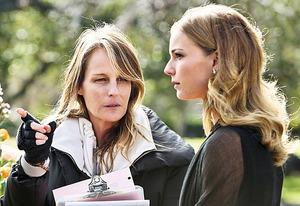 When you lose at the Oscars, you don't get mad. You get busy.
Just ask actress Helen Hunt. The 49-year-old A-lister, who already has an Academy Award for her 1997 performance in "As Good as It Gets," was once again nominated this year for "Sessions." However, she lost to Anne Hathaway in the Supporting Actress category on Sunday.
Bing: More on 'Revenge'  |  Helen Hunt
But don't worry about Hunt. She's grabbing headlines and praise for directing an episode of ABC's juicy nighttime soap, "Revenge," which airs when the drama returns with new installments on March 10.
Plus: Reality TV stars who were fired | Celebrating Black History Month
"Helen is a legitimate fan and was so knowledgeable about the show," Melissa Loy, an executive producer on "Revenge," told TV Guide. "We were big fans of the 'Californication' episode she directed, and of course the actors were over the moon to work with her."
The former "Mad About You" star helmed the episode that revolves around *SPOILER* Amanda Clarke's (Margarita Levieva) burial.
"One of the most challenging things for Helen was making sure what Emily (star Emily VanCamp) was truly feeling, comes out, because so much of what that character shares is masked," "Revenge" writer Nikki Toscano said. "Emily has to bury one of her only friends without letting everyone else know their true identities."
Because Hunt was so invested in VanCamp's delivery and that of the other actors, the performances were stronger and more compelling, according to Gabriel Mann, who famously co-stars as Nolan.
"I feel like she really got us back to our roots, saying, 'As human beings, what happens to (the characters) when these things are occurring all around you?'" Mann told Entertainment Weekly . "She anchored it in incredible, dramatic reality -- still within the confines of the 'Revenge' world, clearly -- but really brought a real sensitivity and poignancy to the things these character have to deal with in the next few episodes."
"Revenge" airs Sundays at 9 p.m. ET/PT on ABC.