Lisa Kudrow and Matt LeBlanc Together Again
CBS party serves up impromptu 'Friends' reunion
Lisa Kudrow and Matt LeBlanc of "Friends" fame recently reunited, and the only thing missing was that tune from the Rembrandts.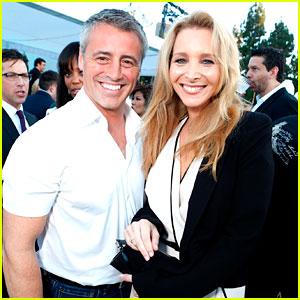 The two actors, best known for the 10 seasons they played Phoebe and Joey on the hit sitcom that ended in 2004, hugged and even posed for pictures at Sunday's CBS, The CW and Showtime party. The event, which took place at the Beverly Hilton, was a part of the Television Critics Association's press tour.
Bing: More on Lisa Kudrow | Matt LeBlanc
These days, Kudrow, 49, and LeBlanc, 45, can be found on their respective Showtime comedies. Kudrow stars on "Web Therapy" and LeBlanc plays a version of himself on "Episodes."
Bing: More on 'Web Therapy' | 'Episodes'
By far the most exciting moment of the party, Kudrow and LeBlanc's impromptu reunion even made comedic actress and "The Talk" co-host, Aisha Tyler, gush. Tyler was once a recurring guest star on "Friends."  
The timing of the party was also magical because LeBlanc had just celebrated a birthday a few days before and Kudrow was about to enjoy hers the following day.
Plus: Top five reality TV judges  | TV's oddest but most lovable couples
Other CBS, CW and Showtime party guests of note included Dennis Quaid, the star of the new CBS drama "Vegas" and Lucy Liu and Jonny Lee Miller. Both will star in the Eye network's new Sherlock Holmes reimagining, "Elementary." LL Cool J (CBS' "NCIS: Los Angeles") was also on hand as were Michael C. Hall (Showtime's "Dexter") and AnnaLynne McCord (The CW's "90210").
"Episodes" airs Sundays at 10:30 p.m. ET/PT on Showtime. "Web Therapy" airs Mondays at 11 p.m. ET/PT on Showtime.
Are you sure you want to delete this comment?