'What Not to Wear' is coming to an end
TLC announces Season 10 will be makeover series' last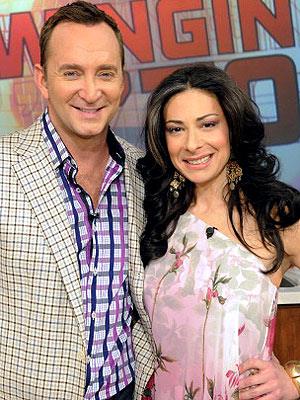 "What Not to Wear" will be no more.
TLC announced the fashion makeover series, hosted by style gurus Stacy London and Clinton Kelly, is entering its 10th and final season.
Bing: More on 'What Not to Wear' | Stacy London | Clinton Kelly
"After 10 incredible seasons, we felt that it was the right time to end the series," said Amy Winter, TLC's executive vice president and general manager, in a statement Wednesday. "Stacy and Clinton have also become two of the most sought after fashion experts and TV personalities in the industry."
Plus: 10 reasons we now hate 'Glee' | What's your Bravo personality? | 'Dancing With the Stars' cast
Before you ask, "Is this show still on," the answer is an obvious yes and Season 10 kicks off in July with "WNTW" returning to its original Friday-night home.
"This show changed me and the trajectory of my life," London said. "I've learned so much from all of our contributors over the years. I hope we touched them as much as they touched me. I hope we touched our viewers. It feels like the end of an era and I look forward to my next chapter."
Kelly concurred adding, "When I got the job, I told everyone I knew that we'd probably do ten episodes, get canceled and I'd go crawling back to my old job in magazine publishing. So, I'm more surprised than anyone that we've lasted this long."
London has been with the show, which is an American take on a British series of the same name, since the beginning. Kelly joined in Season 2 and replaced former co-host, Wayne Scot Lukas.
Over the years, London and Kelly have overseen more than 300 fashion makeovers. And fans can expect a 10th and final season full of exciting ambushes, dramatic transformations and huge shopping sprees.
"What Not to Wear" returns July 2013 on TLC.