He said, she said: The 'Scandal' First Couple talks
MSN TV goes on set to get the story from President Fitz and First Lady Mellie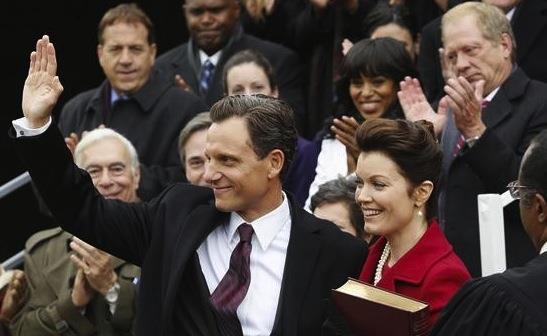 President Fitzgerald "Fitz" Grant has officially survived an assassination attempt on "Scandal." Now, he has to survive what happened while he was unconscious. MSN TV visited ABC's oval office to get the story from Tony Goldwyn (Fitz) and Bellamy Young (Mellie), who teased the Thursday, Jan. 17, episode, "A Criminal, a Whore, an Idiot and a Liar," and shared their perspective on the embattled first couple.
Bing: More about "Scandal" | Watch clips and full episodes of "Scandal"
We use that phrase cautiously, of course. Mellie may be carrying America's baby, but Fitz and Olivia (Kerry Washington) are the true first couple of Shonda Rhimes' political series, not to mention the biggest "Scandal" in the making. 
Plus: 10 things guaranteed to happen on 'American Idol' | TV's 'it' girls
Mellie faked Fitz's recovery, and he woke up in what seemed to be the nick of time. What can we expect now?

Goldwyn: He's profoundly debilitated. He is by no means a well man. But he will be instrumental in saving Mellie's ass. He will protect his wife and make sure she doesn't go to jail and that the presidency is still his.
Will Fitz's injury leave him a changed man?

Goldwyn: It's the same Fitz. It's just a clearer Fitz. He has a very new perspective on life. He's not going to be so easily manipulated. He's done playing games.
Young: A near death experience can be liberating, in that it brings clarity. He's going to struggle physically, but what is not debilitating, what is empowering, is that he loves Olivia. So she will be closer than ever, in a lot of ways. But that's an untenable position. They write it so impossible, so it keeps teetering. I marvel every time I get scripts. I wonder, "How are they going to top this?" And they do! I can't even imagine where they're going to go.
Goldwyn: Shonda is making such a bold moves in storytelling. Several times I couldn't imagine how she was going to get us out of the mess that we were in. In fact, at one point in the first season, I was convinced she was going to get rid of me. When the sex tape came out, I thought, "Okay, that's it. How can Fitz recover from this?" I didn't know it was Olivia on the tape. Shonda was like, "No, we're not killing you!"
Young: We've been getting our scripts at the table reads - they are still warm from the press. All the actors sit down, go to the last page and see if we're still breathing! It's thrilling.
Tony, were you concerned about your future when Fitz was shot and then unconscious for a few episodes?

Goldwyn: No. I had a suspicion. (laughs) The Fitz/Olivia relationship is so much a part of the show right now that I would have to do something really naughty to get killed off. I was fairly confident Fitz would somehow pull through, but I didn't know if I would be in a wheelchair or permanently disabled.
With Fitz more committed to his love for Olivia, do you think Mellie will ever let him go?
Young: No, no, no, no!
She did seem to be ready to accept the affair when she handed Fitz' pin back to Olivia, right after he was elected.


Young: That was the moment it all fell into place. That was Mellie trying to accept it. She also wanted to shame them. It was a power move, but it was also her trying to be okay with it and say, "I will be this woman," even as she was feeling a bit of vomit in the back of her throat. But Mellie's unleashed, at this point. She's not going to go down without a fight.
Are we ever going to start feeling more compassionate for her? Olivia is the other woman, and yet Mellie looks like ...
Goldwyn: The one who is morally bankrupt.

Young: You're meeting her in a really messy moment. It's really balls to the wall for Mellie, right now. It's a moment with such high stakes, so it's not bringing out the prettiest colors in her. They're in there. They're in there in all of us, but Mellie puts the game of it above the humanity.
Were Fitz and Mellie ever in love?

Young: I think so. We're meeting them at such a sad, difficult moment, but there's decades of marriage before. They worked so well as partners before he discovered it wasn't love, but for her it really is love. She still loves him devotedly. She almost loves him too much. She would kill for him. I'd say she'd take a bullet, but clearly it that didn't happen when she had her chance! (laughs) To love someone truly and see how different they are in the light of their true love - it's just a hideous moment for Mellie.
On the other side of that, Tony, is it hard to maintain a balance between Fitz being somebody we would trust to run the country and a sleazy philanderer who once groped his press aide in an elevator?

Goldwyn: No, because we're all human beings and I don't see him as personally sleazy, at all. He was drunk, he apologized and he felt very badly about that. He was behaving like a jerk. But he's a human being who was going through a terrible time.
The election tampering storyline has been swirling around Fitz: How will he react when he finds out he wasn't actually elected by the people?

Goldwyn: I don't know the answer to that. It will be interesting. I think it will be catastrophic for Fitz if he finds out what happened.
Young: In the next few episodes, your head will spin! You'll get answers about that storyline. They'll be swift and they'll be shocking.
"Scandal" airs Thursdays at 10 p.m. ET/PT on ABC.