'True Blood' Talking Points: Look Who's Coming to Dinner
10 plot points you need to know to get by at the water cooler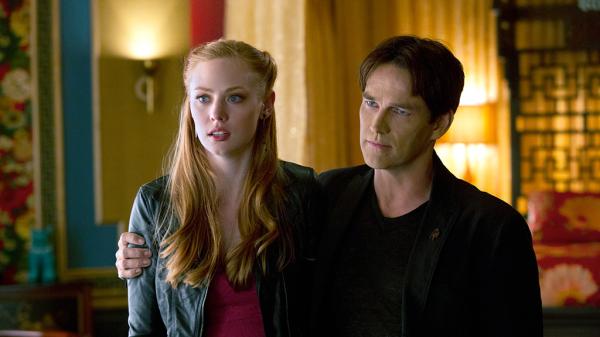 Last week on "True Blood," Bill ordered his progeny, Jessica, to come reside at the Authority headquarters, telling her that he and a few others had been chosen by Lilith to lead them into the new era.

Bing: More on "True Blood" 
This week, Nora was still haunted by the image of Lilith shredding her maker, Godric. But when Salome wondered what was bothering her, she said she was worried about Russell defecting from their regime. She went to go see Eric, who was pacing in his little cell with the pretty purple wallpaper. To comfort each other, they decided to have sex. "What are we gonna do?" Nora asked. And Eric promised he'd get them out of there. 
Jessica, too, was feeling a bit claustrophobic – and worried about the humans she loved, specifically the Stackhouse siblings. Bill suggested she forget about them. "I found a better way, Lilith's way. Jason and Sookie and the inhabitants of Bon Temps are no longer our concern," he told her. "They're food. Nothing more." So Jessica came up with a solution: she'd turn Jason into a vampire. "I love Jason, but it never seems to work out with him," she said. "But if I made him a vampire, we could be with him." But Bill called her on her bluff – and told his minions to take Jessica on her mission to sire Jason into a vampire.   
Hanging out at the faerie burlesque club, Sookie was super-stressed about the whole being sold to Warlowe thing. She told Jason she'd already encountered the creature, you know, as this "weird air thing" in her bathroom. He went back to reality, but she stayed at the club, where it was safe. When Jason got home, Jessica was there. She asked him to trust her. He wasn't getting it. It was all bullshit. But the minion told her, if she didn't do it, he would. So Jessica attacked him. As the minions were burying the pair, Jason shot them with his wooden bullets. She told Jason what was going on, and he started to rush off. "Jason, I know this wasn't real. But if I was going to have to spend eternity with somebody…" He didn't wait for her to finish. "I've gotta go warn Sookie."
To resolve this Warlowe problem, Sookie was to meet with The Elder, the oldest faerie, who was a bit loopy. When the Elder met Sookie, she asked her about whether or not she liked Kesha, the pop artist, and noted that Kesha's spelling was atrocious. The Elder had known John Stackhouse, who was "a bit of a creep, no offense." She told Sookie there was "a reason you slut your heart out to every cute guy out there with fangs. A dark time is coming. You will be tested. Hold on to your light." The Elder was just about to tell her about Warlowe when Jason showed up again, talking about the Authority and Russell. Which totally freaked the Elder out. Sookie told them: "We have to fight him, all of us together." The faeries said it was suicide, but the Elder said that they would step up and fight with Sookie.
General Cavanaugh, representing the American government, was sent to check on the situation – he said Roman had been ducking his calls, apparently. He accused the Authority of bombing the Tru Blood factories. "The U.S. government and the Authority have an agreement – and the agreement is called Mainstreaming," he said. "That means you don't f—k with us and we don't f—k with you. Now I've been working with Roman to protect this Authority for 20 years, but this time you've gone too far." He said that there were government talks of eradicating all vampires. So the Chancellors informed him that the Authority's agenda had changed. "This is a Sanguinist regime now," Nora told him. Cavanaugh was freaking, but Bill told him he could join them – or not. Then Cavanaugh told them about their video, of Russell and Steve devouring the greeks at dinner the other night. He told them it could go viral in minutes. And that the government had weapons. "We own the day," he said. "Vampires don't stand a f--king chance." As the General walked out, Eric killed him with a well-placed karate chop. It was time for a crisis PR campaign. Eric and Nora volunteered to head out into the world on to do some media spots. Yup, they'd gone rogue.
Pam was telling Tara about the Authority and the trouble they'd be in if they found out that they'd killed Elijah. That's when Jessica showed up, asking for them to hide her. She told them she'd tell them where Eric is. When she did, Pam said that it was classic "nest behavior," and that drinking Lilith's blood was "making them nest on steroids." Pam was not happy to be hosting all these baby vamps. "She's a lot of bark," Tara said. "And a lot of bite." Jessica asked if Tara like-liked Pam. But Tara denied it. Then Elijah's mama, Chancellor Rosalyn, showed up. Pam said she was the killer, not Tara. The Authority arrested her – and as Rosalyn walked out, she told Jessica: "Your daddy's looking for you." Headquarters was on lock down, but two little mice scurried about – Sam and Luna, still looking for little pup Emma. They got to the holding cages, filled with naked humans – and a small pup. But the guards came, and Sam volunteered to be Bill's breakfast. As he was being taken out, he ran into Pam, who was being taken in.
At Merlotte's, Holly's boys apologized to Sheriff Andy Bellefleur for putting the picture of his ass up on YouTube. He told them he was going to do right by their mom. Then Andy hung with Terry, who was feeling much better now that the Ifrit was gone. Andy asked them for relationship advice. Arlene suggested trust and honesty and loyalty. That, of course, is when faerie Maurella showed up with her big old baby belly. She was carrying his kid. He told her: "I got a good thing starting with Holly, and I just feel more comfortable with someone of my own species." She said bailing on his baby mama would be considered an act of war.
Alcide was still visiting his dad in Mississippi when a werewolf pal from his dad's old pack stopped by, telling them there was a bunch of baby vampire packs forming, hunting, coming their way. Alcide asked his dad whatever happened to his pack-first mentality, but he told him to get lost. Later, baby vamps showed up, trying to get into the trailer. So Alcide and his dad took 'em out, easy.
Bill was hearing voices. One in particular beckoned to him. It was coming from the chamber where the blood of Lilith was kept. "Only one can lead us," she said, appearing, buck-naked and covered in blood. "I choose you. Drink the blood. Drink it all." But Bill was unconvinced. Then he saw he fingerprints on the glass case enclosing the vial. Still, he wavered, then walked away. Later, the voice came again. "I choose you," Lilith said. He saw the naked Lilith in his room, felt her blood on his lips, but she disappeared. He went to the chamber where Lilith's blood was and found one of the other chancellors, Kibwe, was there on his knees, confessing, "Lilith came to me. She choose me." But Bill knew Lilith had chosen him, so he chopped off the other chancellor's head. That's when Jessica came back. She told him: "Pam said you are in a nest and it is making you crazy." That's when Bill slapped her, sending her flying. He told her that he was the chosen one, but at that very moment, Lilith was feeding the same line to Salome.
Jason was on-board to fight Russell, too. He headed out to find the ancient vamp, telling Sook he loved her. He stood guard at the house, but Russell grabbed his gun before he knew what was happening. "Jesus!" Jason said. "I actually met him," Russell said. "He was a boring hippie who stank of patchouli." Steve was with him, and happy to see Jason. Looking into Russell's eyes, Jason spilled everything about the faerie club. Oops. He took them to the faerie field, where they ran around sniffing for them. Russell held Jason as a shield, but only the Elder went out. "Vampire, I hereby banish you to the realms and beyond, be gone!" she ordered. But Russell did not disappear. He just ate the Elder. Then, all of the sudden, the faerie club appeared, serving them all up on a platter. "Well, thank you so much," Russell said. "I'd love to come to dinner."

 "True Blood" airs Sundays at 9 p.m. ET/PT on HBO.