'Anderson Live' viewer co-host finalists announced
Cast your vote for one of the five remaining contenders
Andy Cohen, Kate Walsh, Kristin Chenoweth, Kellie Pickler and NeNe Leakes are just a few celebs who have tapped in as "Anderson Live" co-hosts this season. Now it's time for a viewer to do the honors. Contenders hoping to join Anderson Cooper for an episode submitted videos, and producers have narrowed it down to five finalists, announced during Tuesday, Dec. 4, episode. Cast your vote to decide which finalist will be the big winner.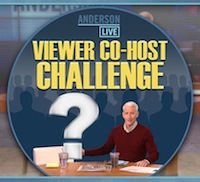 The five finalists are Libra Johnson of Rockville, Md.; Christa Fielder of Cedar Rapids, Iowa; Wayne Sampson of Brooklyn, N.Y.; Karla Guy of Los Angeles, Calif., and Fresh Johnson of New Orleans, La. Above is a sneak peek of the contestants' videos, with the full videos posted 
on the "Anderson Live" Viewer Co-host voting page
. 
The competition 
opened in October
 and was supposed to wrap up in November, but was delayed by Anderson's
trip to the Middle East
. Now, it's time to cast your vote to decide which contender will co-host with Cooper, as well as receive round-trip airfare, two nights' hotel accommodations and ground transportation to the studio. Voting goes through Thursday, Dec. 6, at 11:59 p.m. EST.
"Anderson Live" airs weekdays in syndication.