'Pretty Little Liars' Talking Points: Oh, What A Tangled Web
10 major 'PLL' plot points you need to know to get by at the water cooler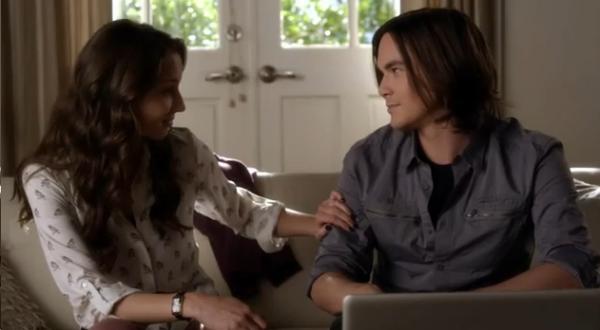 Last week on "Pretty Little Liars," our fearful foursome discovered some disturbing information, thanks to nutty Mona and her secret code – "Maya's away sleeping sweet, until Garrett's all Rosy, Count on Me." The girls checked out a website the code lead them to: MassSugar.com – and discovered a photo of Maya, and a password-protected site.

Bing: More on "Pretty Little Liars"
This week, Hanna insisted Mona was trying to help them, but Spencer had her doubts. Emily decided she would try to crack the password – after all, it was her ex-girlfriends site. But no luck. "Guess I didn't know her as well as I thought," she said. But Spencer was still trying to crack the code, but to no avail. So she asked Hanna if they could ask Caleb how to break into the site. She said it was okay. That's when Toby showed up, stressed. "Do you know where he is?" Jason was MIA. "You covered for him, I covered for you, and he left us both lying to the cops." He said Spencer needed to listen to him. "Mona's locked up, Garrett's locked up, yet you still jump every time your phone rings. Yeah, I know, it's complicated. So I'll make it easy on you. I'll find out for myself."
At home, Aria had an awkward interaction with her dad, who told her that his "other woman," Meredith, just got the job at Rosewood. She headed to Ezra – where she met his mother, Diane. She invited the pair to a benefit at the museum the next day. Telling Emily about it later, Aria described Ezra's mom as "diamonds and Chanel on a Sunday morning." To which Em said, "I think you're in Spencer territory here."
Emily went on a hike with Nate, who told her that Jenna stood him up. Then he said he could never understand how someone could kill somebody – but when he saw Garrett, he could. "I could kill him with my bare hands," he said. Later, she went to go talk to Paige, who'd missed school for a few days. "We have to talk about this," she said. "You got sick because you drank from my flask." She told Paige that someone had drugged her via the flask, the night someone dug up Alli's grave. She couldn't remember what happened that night. "You were with me," Paige said. "I thought you were drunk." She said Emily had kissed her – and then disappeared. "At school, I thought you didn't want to remember." She felt guilty. "You were there, and I just got greedy."
At the café, Wren met Hanna to tell her that they were transferring Mona into a high security loony bin – that she'd been skipping her meds, sneaking them to someone else. He said he'd talk to the board, but he didn't think anything would come of it. Naturally, while they were chatting, Caleb showed up. Later, Wren told her he couldn't fix it. But maybe if Hanna spoke to them, the doctors would listen to her. So she did. "Mona and I are like the same person. We started out at the same place," she said. "I see her in that robe and slippers and realize that could be me in there. And if it was me, Mona would be sitting here, asking you to not send me away. So please don't. There will be no one there to hold her hand." Thanks to Hanna, Mona got to stay. And in her excitement, Hanna kissed Wren.
Spencer ran into Caleb at school – and she spilled about Maya's site. He said he'd do it. "Look, whatever happened, Hanna's important to me," Caleb said. "So if I have a chance to crush the Mona monster, I'll do it." Naturally, as soon as he left, Spencer got a text from A: "Mona's almost gone. Hanna's next." She told the girls. Hanna was super-stressed about the court order to get her blood. But Spencer said her mom would be able to kill that.
At Spencer's to find a dress for the benefit, Aria and Spencer went through Mrs. Hasting's bag and found Garrett's file – then took pictures with Aria's phone. It had all the dirty details about Maya's death – that her trachea was crushed by a pipe or something. They also found the witness list – and one particular name and address circled, a man named Bart in Rosewood. Turns out it was the movie theater's address. Bart, the theater guy, to Aria he'd seen Maya get into the police car with Garrett the night she died.
Caleb and Spencer were at her house, and within several flirty minutes -- I mean, really, can you blame her? -- where she ribbed him about his fancy new car and clothes, he'd cracked the code. There was a video of Maya reading poetry. Then her saying, "If you're looking at me, beware. This site is cursed." Then Aria called and told Spencer what she'd learned from Bart.
At the Osgood benefit, Aria learned that Ezra came from big time money. "I should have figured out a way to tell you about this, but it's kind of hard to work into a conversation," he told Aria. As he mingled, Mrs. Fitzgerald spoke with Aria – revealing just how much she already knew about his son's new girlfriend, and her family's sordid history: dad's affair, brother's arrest. "You can literally chart all the cracks and strains," she said. "I may not agree with the way Ezra lives his life, but I'm not going to stand by and let you ruin it." Then she said there could be "real-world compensations" if Aria ended it. Aria walked out, and Ezra confronted his mother. At home, Aria's dad asked if she was okay. And she asked him if she'd ruined Ezra's life. "Am I just destroying everything that I touched?" But her dad said that she could never hurt anyone.
Emily was alone at the lake house when she heard a crash. It was Nate. "I wanted to see what it was like at night," he said. He was clearly making her nervous. But Paige was on her mind. "Do you think it's possible to do something without knowing why you're doing it?" she asked Nate. No, he said. "I think we're always who we are. It's like, when you do things in a dream, and it frightens you because you didn't think that's who you are – but it's you." So Emily went to go talk to Paige again. She told her she hadn't been with anyone since Maya. She said that night, the night she blacked out, she was looking for something – for somebody. And she found Paige. So she kissed her. Again. Meanwhile, the girls – except Emily, who was clearly busy – perused the various videos on Maya's site. A lot of them were of Emily or about Emily. But the last one, well, that seemed to be from the night Maya died.
Parting shot: our gloved, hoodied stranger collecting massive stacks of cash from a bank. 
"Pretty Little Liars" airs Tuesdays at 8 p.m. ET/PT on ABC Family.