Must-See Showers: 'Glee,' 'House,' 'Bones' & 'Thrones'
With the returns and season premieres of several shows, April's TV forecast looks bountiful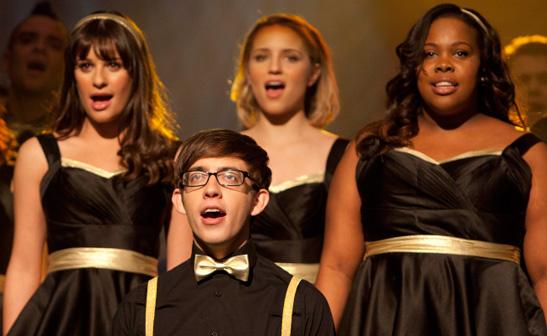 You know what they say: April reconvening after a midseason hiatus brings May-sweeps ratings success. Well, if they haven't uttered it yet, they should, because just about every network is either slotting a vacationing primetime favorite back into its schedule for spring, or kicking off a new season of cornerstone programming between April Fool's and the first day of May.
Below, we take a look at shows that are back to finish what they started after temporary winter siestas ("House," "Glee" et al.), in addition to series that have spent months recharging and rebooting after a previous season's work ("Game of Thrones," "Nurse Jackie," etc.). Or, in the case of "The Killing," sent bloggers and audiences alike into fits of rage and unresolved pathos. 
May as well begin with "The Killing," Veena Sud's alternately savaged and addicting spin on "Twin Peaks"-style small-town murder stories. Its controversial first slate of episodes concluded with a faux-cliffhanger and a lot of unanswered questions. And rain. Lots of rain. TV Line suggests that April 1's two-hour premiere will pick up at the moment its predecessor ended. Specifically, Linden won't be flying anywhere, and Holden's mystery partner and motivation will be revealed. Just not Rosie's killer.
No other resurrected April series carries the "How will this all end?!" burden more than "House." Since, ya know, the show is actually ending and all. Once again, TV Line has been on serious spoiler patrol, and alleges that these final weeks, beinning April 2, will be chock full of House-on-Wilson melodrama, and that Olivia Wilde won't be the finale's only returning star. Presumably, this won't include Kal Penn, unless House's final miraculous act is raising Dr. Kutner from his mortal coil.
While we're keeping an eye on FOX's morbidly humorous dramas, "Bones" is also dusting itself off on April 2, and  TV Line  reports that its May 14 season finale will now be dubbed "The Past in the Present." Then again, IMDB has it registered as "The Patriot in Purgatory." What we do know is there will be alliteration, with an emphasis on the hard "P."
Not every FOX hit involves wisecracks about dead bodies and archaic disease. The "Glee" cast is resting its pipes for an April 10 resurgence. Then again, the last we checked in with New Directions and company, Quinn got decimated in a brutal car accident, so perhaps all three of the network's shows share a deviant streak. E! assures fans that actress Dianna Agron will continue to appear in some capacity, even if in flashbacks. The show's flashbacks, not yours.
This is all getting very grim, so why not change gears to HBO's witty half hour of animation, "The Ricky Gervais Show," which brings a breath of fresh hilarity to Friday nights as of April 20? If you've had a bad week, just sit back and enjoy as Ricky and Stephen Merchant belittle poor Karl as he pitches a movie, parades an invention called the mug coaster and brings attention to philanthropic causes.
Not to be outdone in the bombast department, HBO is also welcoming back the much-ballyhooed "Game of Thrones" for a second run on April 1, and banking on its goodwill taking away from AMC's "Killing" bow. The network's so confident, it's already released detailed episode summaries for all the way through May. Check out the Wrap for a concise rundown, or just take our word for it that Tyrion Lannister will spend the majority of his time reigning in that damn wayward nephew Joffrey of his. 
Showtime likes to keep it simple. Their half-hour black comedies dabble in the comparatively manageable worlds of prescription drug addiction, adultery and neglectful parenting. Oh, that unpredictable "Nurse Jackie." When Edie Falco reprises her titular role on April 8, we'll find out if she and Kevin can keep their mostly loveless, disloyal marriage together. Also, Jackie will make out with Green Day's Billie Joe Armstrong.
The one other thing those mysterious "they" tend to say is that "Revenge" is a suspenseful drama best talked about last among a bulleted checklist of television shows. Or something relatively akin to that. ABC, of course, is hoping their "Revenge" will continue to spite the competition. Creator Mike Kelley and his team have been pretty tight-lipped about how they'll resolve Emily's murderous Fire & Ice engagement party, although he did tell E! that suddenly scheming Ashley will "play a big part in the finale." And that, my readers, is one small step for TV kind.

"Bones" returns Monday, April 2, at 8 p.m. ET/PT on FOX. "House" returns Monday, April 2, at 9 p.m. ET/PT on FOX. "Glee" returns Tuesday, April 10, at 8 p.m. ET/PT on FOX. "Revenge" returns Wednesday, April, 18 at 10 p.m. ET/PT on ABC. "Game of Thrones" premieres Sunday, April 1, at 9 p.m. ET/PT on HBO. "The Killing" premieres Sunday, April 1, at 8 p.m. ET/PT on AMC. "Nurse Jackie" premieres Sunday, April 8, at 9 p.m. ET/PT on Showtime. "The Ricky Gervais Show" premieres Friday, April 20, at 9 p.m. ET/PT.