Look who's talking in daytime: Jan. 21 to Jan. 24
Prime-time favorites and big screen stars make the rounds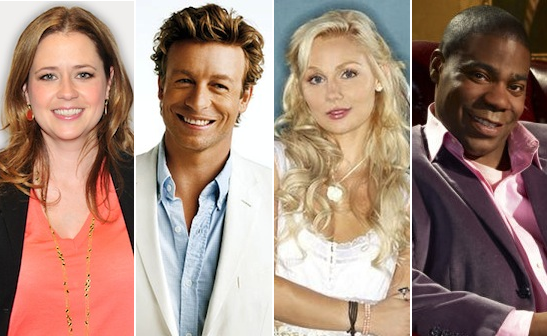 The presidential inauguration takes over daytime Monday, Jan. 21, but then it's back to the business of prime-time stars, movie promotion and rocking performances. Jennifer Lawrence, Jude Law, Jennifer Lopez, Jason Statham, Jeremy Renner, Cedric the Entertainer, Chris Colfer, Robert Patrick, Nicholas Hoult and Dustin Hoffman are talking up their big screen efforts; while primetimers will be talking up "The Good Wife," "The Mentalist," "Criminal Minds," "Private Practice," "Vegas," "Necessary Roughness," "House of Lies," "Shameless," "Dallas," "American Horror Story: Asylum," "Spartacus: Vengeance," "Psych," "30 Rock," "The Office," "Guys With Kids," "1600 Penn," "SNL," "The Bachelor," "Project Runway," "America's Supernanny: Family Lockdown," "Pete Rose: Hits and Mrs.," "Chasing The Saturdays," "Second Generation Wayans," "Gator Boys" and the Hallmark movies "The Makeover" and "Good Night for Justice." Clare Bowen, the Saturdays, Ellie Goulding, Jerry Springer, Olly Murs, DJ Pauly D and Gloria Loring are set to perform.
Bing: More daytime TV news  | Presidential inauguration
Carnie Wilson, Kim Coles, Meghan McCain, Judge Marilyn Milian, Deborah Tillman and Rosie Perez are getting into the co-host game. Other notables coming to daytime include Miranda Lambert, Pete Rose, Vanessa and Nick Lachey, Barry Manilow, Sasha Cohen, Tristan Rogers and Peter Walsh. Plus, look for a big announcement from New Kids on the Block.
Plus: 15 TV actors who have worked with Kevin Bacon | Canceled or renewed
Schedules are subject to change
"Anderson Live"
Mon: Co-host Meghan McCain; Josh Gad
Tue: Co-host Judge Marilyn Milian
Wed: Co-host Deborah Tillman; Sarah Paulson
Thurs: Co-host Rosie Perez; Liam McIntyre
Fri: Co-host Maria Sansone; "Gator Boys"
"Ellen"
Mon: Chris Colfer, Colton Gamel; DJ Pauly D performs
Tue: Michael Chiklis
Wed: Simon Baker 
Thurs: Kristen Bell, Cedric the Entertainer 
Fri: Ellen's birthday show with Jude Law 
"Good Morning America"
Mon: Inauguration coverage from Washington, D.C.; Drew Barrymore, Taye Diggs, Valerie Harper
Tue: Jennifer Lopez, Ali Wentworth; Ellie Goulding performs
Wed: Michael Strahan, Dustin Hoffman, Jason Statham, Zac Posen and Tim Gunn
Thurs: Julia Stiles, chef Michael Symon
Fri: Sharon Osbourne; Chris Harrison
"Jeff Probst Show"
Mon: Shemar Moore, Stephen Fife, Deborah Ann Woll
Tue: Pete Rose and fiance Kiana Kim; Lisa Whelchel
Wed: kids who don't go to school; Lisa Whelchel
Thurs: Jenna Fisher
Fri: The Saturdays talk and perform; Lisa Whelchel
"Katie"
Mon: (repeat) Hugh Jackman
Tue: Matthew Badger, Judy Shepard
Wed: Barry Manilow
Thurs: Jennifer Lopez and Jason Statham
Fri: child prodigies
"Live! With Kelly and Michael"
Mon: (repeat) Jimmy Fallon, Nene Leakes
Tue: Jeremy Renner, Taye Diggs
Wed: Jason Statham, Christine Baranski; Olly Murs performs
Thurs: Jennifer Lawrence, Anthony Anderson
Fri: Lena Dunham, Nicholas Hoult
"Marie"
Mon: Corbin Bernsen, Lawrence Zarian, Amanda Beard, Steve and Annette Economides
Tue: Angela Kinsey, Summer Baltzer, Ernie Hudson; Brandon and Savannah perform
Wed: Heather Thomson, Tristan Rogers, Kay Wills Wyma
Thurs: Luke Perry, Gloria Loring talks and performs
"Rachael Ray Show"
Mon: John Gidding, Gretta
Tue: Fred Armisen
Wed: Vanessa, Nick and baby Lachey; Peter Walsh
Thurs: Tim Gunn
Fri: Jerry Springer sings
"The Talk"
Mon: preempted for inauguration
Tue: William H. Macy, Miranda Lambert
Wed: Co-hosts Carnie Wilson and Kim Coles; Joan Collins, psychic Char
Thurs: Wayne Brady, Perez Hilton
Fri: Luke Perry
"Today"
Mon: Live from Washington, D.C. for Inauguration
Tue: Chef Giada DeLaurentiis, Callie Thorne, Luke Perry
Wed: Kimora Lee, Giada DeLaurentiis, Darrell Hammond; Aaron Neville performs
Thurs: Quvenzhane Wallis
Fri: Len Berman, Sasha Cohen
"The View"
Mon: preempted for inauguration
Tue: New Kids on the Block
Wed: Tracy Morgan, Ali Wentworth
Thurs: Julia Stiles, Patrick Duffy; Clare Bowen performs
Fri: Co-host David Muir; Sherri Shepherd's Broadway debut, Drew Barrymore
"The Wendy Williams Show"
Mon: Meagan Good
Tue: Damien Dante Wayans, Craig Wayans and George O. Gore II; Dr. Mike Dow 
Wed: Luke Perry, Billy Eichner
Thurs: Al Roker
Fri: Ali Wentworth, Rita Cosby