How Much Will Anderson Cooper Dare to Bare in Daytime?
The talk show stud strips down for a spray tan, but keeps 'personal life' under wraps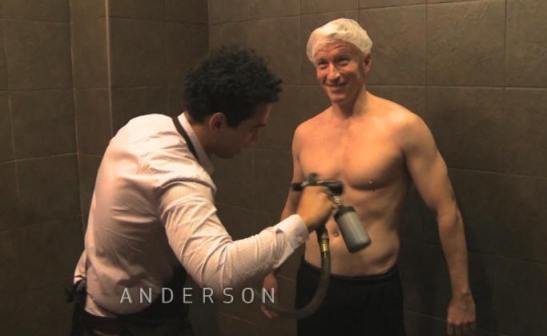 With "Anderson" premiere week in full swing, host Anderson Cooper has already gone shirtless for a swim with Michael Phelps and stripped down for a tanning sesh with Snooki, but that's not what some folks want him to reveal. Now that he's part of the more intimate daytime scene, many are hoping -- even demanding -- that Cooper finally comes out about whether or not he's gay.

Bing: More on Anderson Cooper
Since Cooper announced he was coming to daytime, the press has been trying to get him to come out about his sexual preference, or at least reveal that he plans to come out on his show. After all, as Ellen DeGeneres, Rosie O'Donnell and Nate Berkus can attest, daytime is a pretty gay-friendly environment.
Of course, Cooper may not be gay. Many have come to assume he is, based on murmurings, gossip and stories on independent news sites. Cooper also garnered a mention in "Out Magazine's Most Powerful Gay Men and Women in America issue in 2007 and, more recently, CNN host Rachel Maddow came under fire when it sounded like she was telling Cooper to come out in an interview with The Guardian.
With all this chatter, the newsman has continued to sidestep the question of his sexual orientation. "You know, I understand why people might be interested, but I just don't talk about my personal life," Cooper told New York magazine back in 2005. "The whole thing about being a reporter is that you're supposed to be an observer and to be able to adapt with any group you're in, and I don't want to do anything that threatens that."
Daytime, however, is all about sharing yourself and getting personal, so when Cooper was promoting "Anderson" at the TCA press tour this summer, there were several vague and yet painfully obvious questions from the press about whether he would share his "personal life," and this past Monday, Washington's ABC 7 tried again, to no avail.
The practice of outing members of the LBGT community is generally frowned upon, so most folks are choosing their words, so carefully they're giving Cooper an out (pardon the pun). Others, however, are being more direct.
"When it comes to the prospect of watching 'Anderson' day after day, it leads to a personal question he has declined to answer many times about his sexual orientation," wrote Washington Post critic Hank Stuever. "Cooper…decided long ago to keep his private life private, a lesson learned from watching his famous mother, Gloria Vanderbilt, endure press scrutiny. Also, he doesn't want it to get in the way of journalistic objectivity. Fair enough, but that's not what viewers want in an afternoon talk show host. This job is after all about spilling it -- whether it's the guest or the host."
With "Anderson" getting less than stellar premiere ratings, a big announcement would certainly turn heads. Then again, all this "Is he or isn't he?" drama is already drumming up free publicity for him and the show.
What do you think of this new round of interest in Anderson Cooper's sexual orientation? Leave a comment and weigh in.
"Anderson" airs weekdays in syndication. Check local listings.


It's nobody's damn business whether a person is or is not gay.   Whether or not Anderson is gay is not my business or anyone elses....  I'm gay myself but I took my time coming
out...anyway.....And​erson
is a very sweet man...I met him in Joplin when I had to go back there to help family.  He is a genuine person with a heart. News media, mind your own damn business and leave Anderson alone!

It's nothing new that he's being pressured. He's been pressured constantly for years while a blind eye has been turned to the many glass closets of other successful TV news people like Shep Smith and Robin Roberts. He should be allowed to make what public revelations about himself he wants when he wants to.

You neglected to mention that Nate Berkus' ratings have been bad and that Rosie was closeted for nearly the entire run of her highly popular talk show. Rosie only came out when she was about to end it and her audience wasn't friendly to the news. Talk show hosts need to spill something on the show, unless they're a Jerry Springer type, but (as Rosie and David Letterman proved for many successful years) the spillage can be about other things than their dating life.

Are you sure you want to delete this comment?