Joe Manganiello Gives Wendy Williams a Lap Dance
The lone wolf talks 'Magic Mike,' '50 Shades of Grey' and Demi Moore
The "Magic Mike" cast has been making the talk show rounds and showing off their steamy stripper moves. When Joe Manganiello dropped by "The Wendy Williams Show" Thursday, June 28, he didn't let viewers down. The "True Blood" hunk danced, dished and cleared up rumors about Demi Moore and "50 Shades of Grey."
Bing: More about Joe Manganiello | "The Wendy Williams Show"
With his star growing, Manganiello has been caught up in a few rumors of late. He took them on during his visit with Wendy Wililams.
Manganiello spoke to the buzz that he's set to play Christian Grey in the big screen adaptation of "50 Shades of Grey." "That's not up to me, but I'm sure if enough people want that, then I'd be happy to do it," he teased.
Manganiello also dispelled the rumors about his romance with "Striptease" star Demi Moore. "I met her for maybe three minutes at a premiere about a month ago," he recalled. "I was like, 'Hey, you're a stripper, I'm a stripper. Cool.' Then somebody planted this rumor and fake eyewitness quotes."
Also: Taboo TV | Plus: Boys of Summer | Stars who were fired from shows

Williams was hoping the romance was legit, for Moore's sake, but the upside of learning it was a rumor was that Manganiello revealed he's back on the market. 
"I'm out there lone-wolfing, sort of," he said.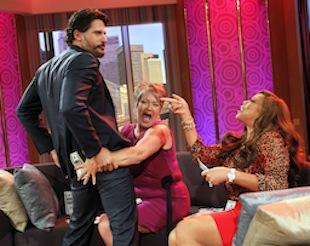 The muscle-bound actor also revealed he had concerns when he saw the script for "Magic Mike." His "What to Expect When You're Expecting" costar Chris Rock convinced him to take the role, no matter how jealous other men might get.
"It was about male strippers and I play the often-shirtless werewolf on 'True Blood,'" Manganiello set up. "I turned to Chris [Rock] and said, 'If I don't get a shirt on soon, every guy in the world is going to hate my guts.' Chris said, 'Man, they're going to hate your guts anyway: Work with Steven Soderburgh. Work with Matthew McConaughey, Work with Channing Tatum. Go do it.'"
Since Manganiello did in fact go do it, he couldn't leave without showing off his "Magic Mike" stripper moves. Williams even had the dollar bills on the ready. As you can see in the clip above, audience member Lisa Hall was randomly selected for a few hip thrusts. Then Manganiello moved over to give Williams her own lap dance.
"The Wendy Williams Show" airs weekdays in syndication and at midnight on BET.