'Following' their lead
Four complicated cop-killer relationships that set the tone for Ryan and Joe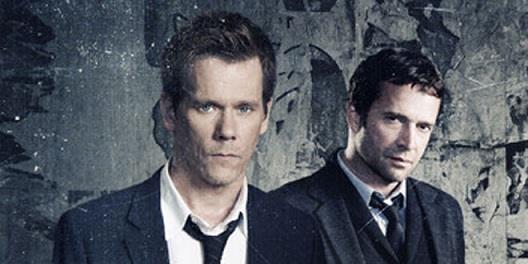 You know that old cliché: Detective tracks killer, detective falls for killer's wife, killer develops cult of accomplices from prison to orchestrate revenge on detective. We've seen it a thousand times before. Okay, not exactly. But after last night's "The Following," it did get us thinking: It's not like Ryan (
Kevin Bacon
) and Joe (
James Purefoy
) are TV's first cop-and-killer adversaries whose complicated dynamic has generated their show's suspense. 
Here are four recent small-screen examples of good (i.e. the law) getting too close for comfort with evil (i.e. sociopaths and terrorists) that have blurred those very terms and no doubt made it possible for "The Following" to mine similar psychodrama.

Dexter and Deborah Morgan ("Dexter")
Let's see if we've got this straight: Dexter (
Michael C. Hall
) and his adopted sister Deb (
Jennifer Carpenter
) work together in Miami Metro Homicide, she discovers he's a serial killer and subsequently covers his crimes and confesses to being in love with him. Then, she murders her captain in cold blood to ensure her not-biological bro avoids the slammer. And as for Dex, he's got to both trust and protect his little semi-sister while watching his own ass and dodging her icky romantic suggestion. Talk about arresting television.
John Luther and Alice Morgan ("Luther")
Like the red-headed devil on London homicide detective John Luther's (
Idris Elba
) tweedy shoulders, patricide-favoring nut Alice Morgan (
Ruth Wilson
) acts as a sort of proxy partner and therapist, helping her unlikely ally probe his own psychology to better comprehend the killers he's stalking. Season 1 used John and Alice's strange co-dependency to cannily subvert the typical "will they or won't they?" tension and make it very clear that there are no clear heroes and villains.
Mike Sweeney and Ray Prager ("Durham County")
This Canadian, ion-aired import is dark, nasty stuff. Seasons 1 and 2 baddy Ray Prager (
Louis Ferreira
) is an absolute monster in the suburban midst, and makes "The Following" murderer laureate Joe Carroll look like a pussycat. When old high school buddy-turned-mortal enemy Mike Sweeney turns up next door to Ray and takes a job in the local PD, he quickly realizes Ray is behind a series of brutal, sexually motivated killings. Before long, their little game of feline and mouse becomes very, very personal, and acts itself out way outside police jurisdiction. Neither Mike nor Ray really gets the last laugh, but they both wind up scarred.
Carrie Matheson and Nicholas Brody ("Homeland")
And then there's these two weirdos. What's the best way for a bipolar CIA agent Carrie (
Claire Danes
) to investigate whether returned prisoner of war Nicholas Brody (
Damian Lewis
) is actually a terrorist spy? Seduce him into a torrid, adulterous affair, of course. Funny thing is, Brody hasn't really killed any "good" guys during the first two seasons of "Homeland," although he is a documented and captured anti-American insurgent. And perhaps Carrie's fighting the good fight on behalf of a government covering up their own heinous international atrocities? Maybe these two crazy, morally compromised kids will persevere over their traumatic pasts and muddy political allegiances and make this thing work. Or at least be besties. 
"The Following" airs Mondays at 9 p.m. ET/PT on FOX.