'Today' announces road trips, social initiative
NBC implements new ploys in the ratings war against 'GMA'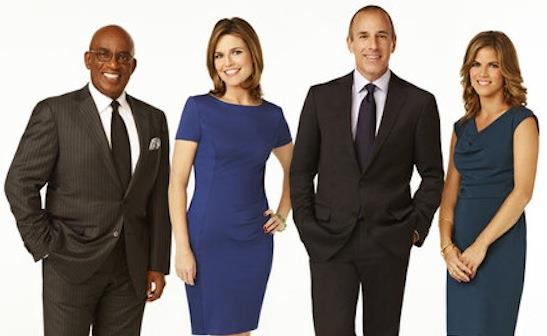 The "Today" and "GMA" morning show ratings war remains hot as ever. With more news buzzing about ousted "Today" host Ann Curry, NBC made two announcements to increase its game this week. "Today" will take Friday Field trips around the country during February and also launched an ongoing initiative to help communities in need.
Bing: "More about "Today" | "Good Morning America"  
Two "Today" anchors will be sent out on Friday field trips each week in February and host the show from surprise cities. The weekly duo will hit the road, while the rest of the crew stays back in NYC for a split broadcast. Destinations will be announced on Mondays, along with which anchors are taking the trip.
Also: 'Game of Thrones' Season 3 photos | 30 rockin' '30 Rock' moments
First up, Al Roker and Natalie Morales will split up and head to the dueling Super Bowl cities on Friday, Feb. 1. Roker will pre-game with 49ers fans in San Francisco, while Morales celebrates with Ravens fans in Baltimore. Then on Monday's episode, the anchor that visited the losing team's city has to dress up as the winner's mascot.
On a more serious note, "Today" is also pledging to use its news coverage, cross-platform promotion and partnerships to inspire viewers to bring hope back to communities in need. When areas across the nation face challenging times, "Today Gives Hope" will take action.
To kick off the initiative, "Today" has teamed with United Way and Amazon to support communities still recovering from Hurricane Sandy. "Today Gives Hope: Hurricane Sandy" will bring attention to communities in New York City, Long Island, New Jersey and Connecticut most affected by the storm. United Way will curate Amazon.com Wish Lists for the communities that were severely impacted by the storm and then distribute essential items to local community organizations. Penske Truck Rental will provide trucks to deliver the items and CI-Group will donate storage space and sorting and fulfillment services. 

You can participate by logging on to Today.com/Hope. Learn more about communities in need of help; donate cleaning supplies, tools, blankets, space heaters and other items they need from the Amazon.com Wish Lists; and then share why you are helping. 
For those keeping track of the ratings war, "Today" boasted the morning show win for the key demo of viewers aged 25 to 54 for the third straight week, marking the show's first winning streak since August 2012. NBC's news show also reports an increase in viewers, but has taken a lot of hits since losing its 16-year winning streak last year.
"Good Morning America" is also reporting continued viewership growth and was the number one morning program during the fourth Quarter of 2012 in both Total Viewers and Adults 25-54. ABC's news show is also ahead in total viewer this season, to date, and almost closed the gap in that coveted demographic the week of Jan. 7.
"Today" airs weekday mornings on NBC. "GMA" airs weekday mornings on ABC.